Game Bar alternative for Windows 10
Are you looking for the software better than 'Game Bar' or 'Game DVR' on Windows 10?
The Game Bar is a built-in tool offered in Windows 10. The 'Game Bar' is part of the 'Game DVR' feature that lets you record PC games and take screenshots for free. You can also record your gameplay in game sound and commentary at the same time.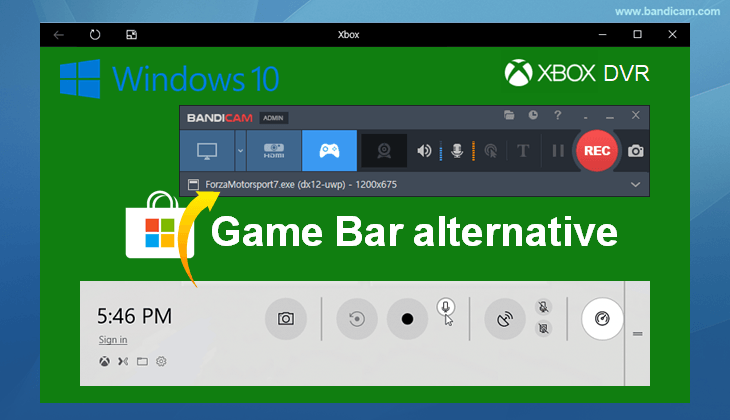 Pros
It is convenient to use with no added software required.
It allows you to record Windows games in the Microsoft Store.
It allows you to stream and play Xbox One games on your PC.
You can easily the Game Bar panel while playing a game by pressing "Windows Key + G".
Cons
There is no way to record your computer screen, webcam or facecam.
It doesn't allow you to hide the mouse cursor in the recorded video.
It doesn't allow you to upload a captured video to YouTube or Vimeo.
It doesn't support hardware-accelerated codecs such as Nvidia NVENC, Intel QSV and AMD VCE.
Why Bandicam?
Game recording programs have been around for a long time. The first generation game recorder was Fraps. It allows users to record high-quality DirectX and OpenGL games. We believe that Fraps was the best game recorder for over 10 years. As time goes by we see the introduction of new and better technology such as DirectX 11/12, Vulkan, Windows App (UWP), hardware-accelerated H.264/HEVC encoder and so on.

People are now using Bandicam not only to record their gameplay but also to record their computer screen, webcam, smartphone, etc. Bandicam is a free screencasting program that lets you record video from games, desktop or external sources. It has been designed for people who need robust functionality, and ease of use. It is recommended for businesses and professionals aiming to produce short videos especially tutorial videos for their YouTube Channel or Social Media department or team. » Bandicam Reviews
Video Overview of 'Game Recording' mode of Bandicam
This 'Game Recording' mode can record the streaming videos that run on DirectX (Or OpenGL/Vulkan), such as various 2D/3D games, internet TV streaming videos, Windows Media Player, HDTV capture cards.


Try Bandicam Game Recorder!
Download Bandicam (Free)
How To record Windows Games/Apps (UWP) in Microsoft Store
Bandicam allows you to record the Windows Games/Apps (UWP) in Microsoft Store that use the DirectX/OpenGL graphics technologies through the "Game Recording Mode" of Bandicam, so you can record the games/apps in high quality.
To record the Windows Games/Apps (UWP), start Bandicam and check the "Windows Apps (UWP)" option.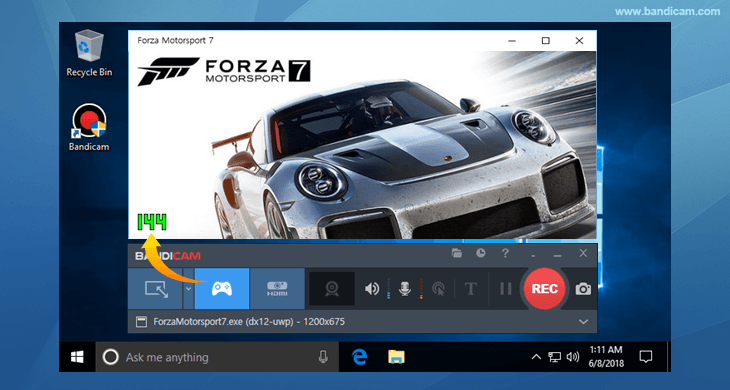 How To Capture an external video device such as a webcam, Xbox, smartphone
If you have a webcam or capture device (hardware), start Bandicam and open the 'Device Recording' mode and select the external device you want to record. You will be able to capture an external video device such as a webcam, Xbox/PlayStation, smartphone, Apple TV, IPTV, etc.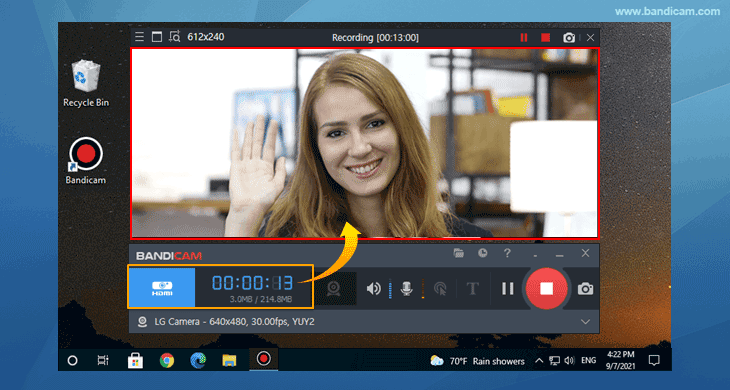 How To Capture your Computer Screen with a Webcam (Facecam)
If you use a laptop or desktop PC which has a webcam device, you can record your computer screen and webcam (facecam) at the same time by using the 'Webcam overlay' function of Bandicam.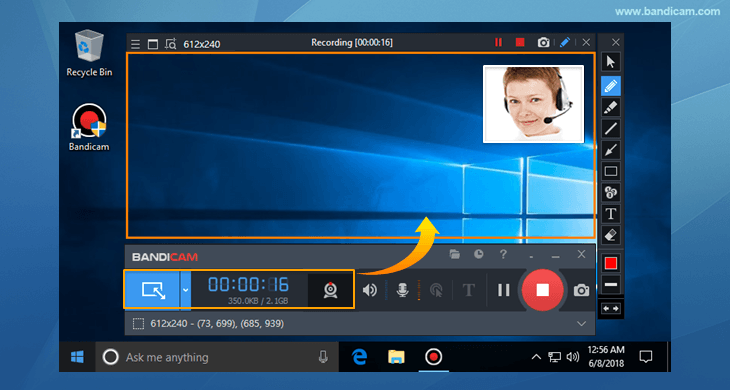 Screenshots of Bandicam Game Recorder
Click Images to view screenshots of Bandicam
Using video capture software can be a great way to record games, create comprehensive video tutorials and demonstrate how to use software. To upload a captured video to YouTube or Vimeo, go to the Home tab of Bandicam and click the [Upload] button.



Last Updated on