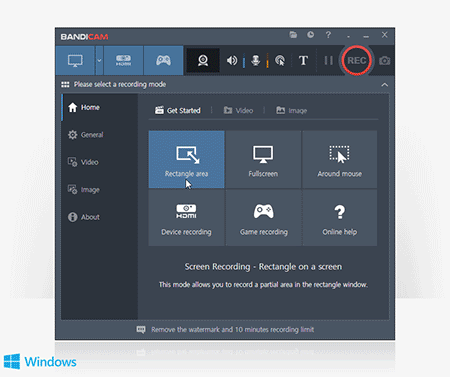 Supported Languages›

English

עִבְרִית

magyar

latviešu

Bahasa Melayu

lietuvių kalba

ภาษาไทย
A comparison between the registered and the unregistered version
* If the product is registered, the watermark (www.Bandicam.com) will not be shown on the recorded video and the recording time will be unlimited.
* Once you purchase the program, there is a lifetime guarantee on the license as long as you follow the license policy. » Bandicam License Policy
* If you uninstall the registered Bandicam, you can transfer the license to another computer. » How to uninstall Bandicam

Comments
»

All comments
What can be recorded through Bandicam Screen Recorder?
Various 2D/3D games: Skyrim, WOW, StarCraft 1,2, Minecraft, RuneScape, Aion, MapleStory, Second Life, Age of Conan, EverQuest, etc.
Internet TV streaming videos: YouTube, BBC, CNN, Internet lectures
Streaming video playing programs: iTunes, Windows Media Player, VLC
Various Windows programs: PowerPoint, Excel, Firefox, Messenger
Desktop Screen, Skype Video chatting, Webcam, HDTV, Java/Flash games, other 3D applications.
See the recording manual
»

See more version history
Improved the hooking stability of DirectX 12 games (Tom Clancy's The Division).
Bugs fixed

Failed to start recording or take a screenshot on some computers.
Other minor bugs fixed.
Improved AMD APP H.264 codec recognition of AMD RX 460/470/480.
Bugs fixed

The YouTube upload function didn't work properly on some computers.
Other minor bugs fixed.
Bugs fixed

The webcam preview was upside down in Game Recording Mode with some webcam devices.
Other minor bugs fixed.