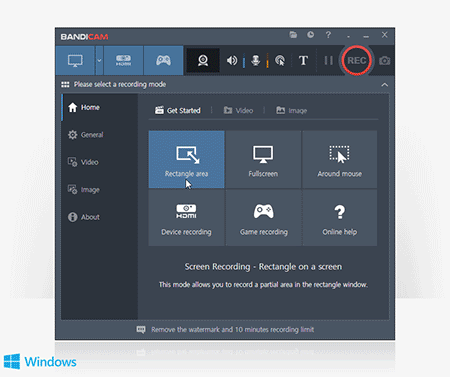 Supported Languages›

English

עִבְרִית

magyar

latviešu

Bahasa Melayu

lietuvių kalba

ภาษาไทย
A comparison between the registered and the unregistered version
* If the product is registered, the watermark (www.Bandicam.com) will not be shown on the recorded video and the recording time will be unlimited.
* Once you purchase the program, there is a lifetime guarantee on the license as long as you follow the license policy. » Bandicam License Policy
* If you uninstall the registered Bandicam, you can transfer the license to another computer. » How to uninstall Bandicam

Comments
»

All comments
What can be recorded through Bandicam Screen Recorder?
Various 2D/3D games: Skyrim, WOW, StarCraft 1,2, Minecraft, RuneScape, Aion, MapleStory, Second Life, Age of Conan, EverQuest, etc.
Internet TV streaming videos: YouTube, BBC, CNN, Internet lectures
Streaming video playing programs: iTunes, Windows Media Player, VLC
Various Windows programs: PowerPoint, Excel, Firefox, Messenger
Desktop Screen, Skype Video chatting, Webcam, HDTV, Java/Flash games, other 3D applications.
See the recording manual
»

See more version history
Bugs fixed

The webcam preview was upside down in Game Recording Mode with some webcam devices.
Other minor bugs fixed.
Improved the stability of the Intel Quick Sync Video encoder.
Improved the recording performance of the webcam overlay.
Bandicam is now able to save a webcam overlay video in 60FPS (while saving the webcam overlay video as a separate file).
The default recording time for Auto Complete Recording has changed from 10 minutes to 60 minutes.
The default rectangle size for screen recording has changed from 640x480 to 1280x720.
Bugs fixed

Failed to use the webcam recording function while ESET AntiVirus was running.
The input format of a specific webcam device wasn't applied to the webcam overlay function.
The Drawing mode menu was disabled while not recording.
Other minor bugs fixed.
Bandicam is now able to add numbers to highlight steps of video tutorials.
Bandicam is now able to draw arrows with customized colors and sizes.
Improved the real-time drawing function.
- The real-time drawing feature can be used in a moving video.
- The drawing feature can be used when capturing images.

Added a new size preset (1920x1080) on the rectangle window.
Separated the FPS position hotkey and the FPS show/hide hotkey.
Improved the writing efficiency of PCM audio data with the .avi container.
Bugs fixed

RGB24 codec resulted in quality loss in the registered version.
External codec which supports RGB input such as MagicYUV, Lagarith, x264 resulted in quality loss.
Bandicam crashed when the smallest size was selected and the H264(CPU) codec was used in Screen Recording Mode.
Other minor bugs fixed.