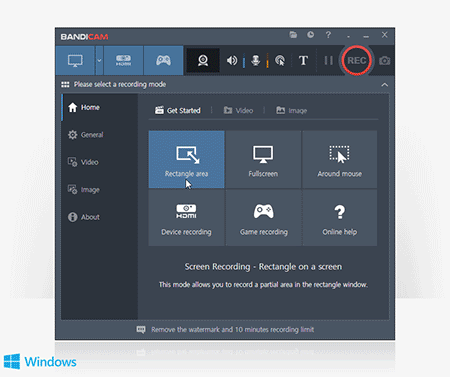 Supported Languages›

English

עִבְרִית

magyar

latviešu

Bahasa Melayu

lietuvių kalba

ภาษาไทย
A comparison between the registered and the unregistered version
* If the product is registered, the watermark (www.Bandicam.com) will not be shown on the recorded video and the recording time will be unlimited.
* Once you purchase the program, there is a lifetime guarantee on the license as long as you follow the license policy. » Bandicam License Policy
* If you uninstall the registered Bandicam, you can transfer the license to another computer. » How to uninstall Bandicam

Comments
»

All comments
What can be recorded through Bandicam Screen Recorder?
Various 2D/3D games: Skyrim, WOW, StarCraft 1,2, Minecraft, RuneScape, Aion, MapleStory, Second Life, Age of Conan, EverQuest, etc.
Internet TV streaming videos: YouTube, BBC, CNN, Internet lectures
Streaming video playing programs: iTunes, Windows Media Player, VLC
Various Windows programs: PowerPoint, Excel, Firefox, Messenger
Desktop Screen, Skype Video chatting, Webcam, HDTV, Java/Flash games, other 3D applications.
See the recording manual
»

See more version history
Added the Facebook upload function. (How to upload a video to Facebook.)
Fullscreen mode: Added the pin icon to show/hide the recording control bar.
Fullscreen mode: Added the opacity adjustment function.
Fullscreen mode: Bandicam now shows the display number in the recording information status line.
Added the Khmer(Cambodian) language file by touch sovannara.
Bugs fixed

The taskbar was not recorded when using the around mouse screen recording mode.
Other minor bugs fixed.
Applied new UI design for Bandicam 4.0.
Added support for the "new Fullscreen" recording mode.
Added support for the "Around Mouse" recording mode.
Added the 'bdcam_nonadmin.exe' file which allows non-admin users (standard users) to use Bandicam without administrator privileges.
Added support for text input in the drawing function.
Added the "Get Started" menu for beginners.
Added the Belarusian, Burmese language files.
The mouse cursor/effect settings status is displayed on the main window.
The microphone settings status is displayed on the main window.
Improved the switching speed to Game Recording Mode.
The maximum length of the format/size preset name is limited to 100 characters.
The DPI scaling of the rectangle window and device recording window is adjusted automatically according to the Bandicam main window.
Bugs fixed

The bdcam64.bin process remained after crashing.
The record button was not active after the Auto Complete Recording function was used.
A file dragging bug of the video/image file list has been fixed.
Other minor bugs fixed.
Improved the hooking stability of DirectX 12 games (Tom Clancy's The Division).
Bugs fixed

Failed to start recording or take a screenshot on some computers.
Other minor bugs fixed.