PowerPoint video recording - Sample Videos
MS word video recording - Sample Videos
How to Record PowerPoint as video
Please, follow the steps below to record the a PowerPoint presentation.
1. Start Bandicam and choose the 'Fullscreen' mode.
2. Start the PowerPoint Presentation (F5)
- Note: You may play an audio file to add sounds in PowerPoint
3. Click the '● REC' button or press the hotkey (F12) to start/stop the recording.

4. Go to 'Home -> Video' to play, edit or upload the captured videos.
Bandicam can record various Windows programs (Internet Explorer, PowerPoint, Excel, etc.)
When you record the computer screen or Windows applications with Bandicam:
You can upload the recorded file to YouTube without converting

You can record over 7 days without stopping (AVI 2.0 OpenDML)

The recorded file size is smaller (1/5~1/20) than other capture programs.

It has less lag than other screen capture software (Bandicam uses less CPU/GPU/RAM resources).
* A real-time drawing function is available.
Users can simultaneously draw lines, boxes, or highlights while recording in 'Screen Recording' mode.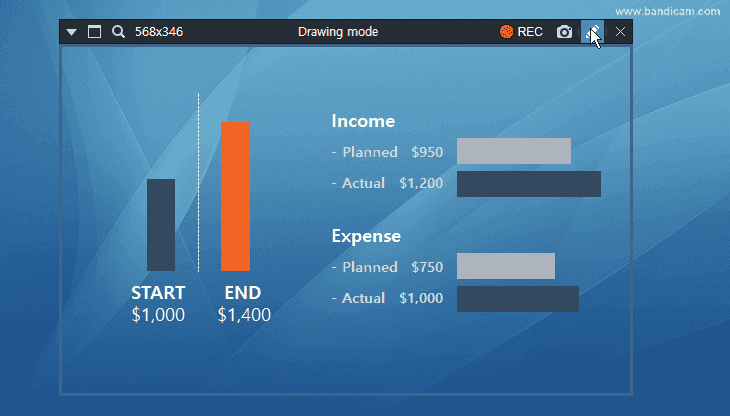 More information
»
Please share your video on the Bandicam forum:
https://forum.bandicam.com/viewforum.php?f=14