Online screen recorder
When surfing the web or using computers in general, we encounter various situations that make us feel like recording them to view later. Streaming videos on YouTube or watching live sports, or other video on platforms that won't let you download them, or even when gaming are examples of such scenarios. In these cases, you need a good online screen recorder.

Here, we will take a trip into the world of online screen recording and show you what to look out for to find your ideal online screen recorder. First of all, there are two types of online screen recorders – the web-based online screen recorders and the desktop screen recorders that you actually install on your computer.


Online screen recorders vs. Desktop screen recorders
| | Online Screen Recorder | Desktop Screen Recorder |
| --- | --- | --- |
| Easy-to-use | Easy | Normal |
| Video Quality | Good | Better |
| Screen Recording | O | O |
| Image Capture (bmp, png, jpg) | O | O |
| DirectX/OpenGL/Vulkan | X | O |
| Webcam/Device Recording | X | O |
| Hardware acceleration | X | O |
To record your computer screen, you can either install a screen recording program for that or skip the installation hassles and use one available online. If you use the web-based online screen recorders or screen recorders for Chrome, you do not have to download and install software on your PC, all you do is add the extension to your web browser, and you are good to go. It sounds like the web-based online screen recorders are great. However, if you search for "online screen recorder" on Google, you will not be able to find a good online screen recorder, most of them are not truly web-based online screen recorders and you will only get a bad-quality addon program or desktop-based launcher program.

If you need to record your screen for serious work and tasks, such as saving presentations, webinars, creating website tutorials, etc., then you definitely need a professional and stable desktop screen recorder.


Try Bandicam Screen Recorder!
Download Bandicam (Free)
Bandicam screen recorder [Recommended]
As mentioned earlier, it is tough to find a good online screen recorder. So, we recommend you use a desktop screen recorder instead of an online screen recorder. Bandicam is an ideal desktop screen recorder because it's a complete solution. With this program, you can really record everything displayed on your monitor. Not only does it let you capture these images, but it does this in style. For example, you do not only get to record entire screens; Bandicam allows you to select a specific area on the screen to capture. With this tool, you can also record gameplay of games that use DirectX/OpenGL/Vulkan graphics technologies. Thanks to its high compression ratio, the output almost matches the quality of the original video.
Key features of Bandicam Screen Recorder
Bandicam can record 4K UHD Video and capture up to 480 FPS Video.
With this program, you can also capture scenes from external devices like iPhones, IPTVs, game consoles, and webcams, etc.
It has mouse click animations and effects that are helpful for making guides.
It allows you to superimpose an overlay of the feed from the webcam on top of your recorded screen. This is a feature that YouTubers love.
The scheduled recording feature is vital for programming Bandicam to begin recording your screen at a set time and date.
It features a useful "drawing mode" that lets you make marks or draw on the capturing area when recording images on the screen with Bandicam.
Bandicam allows you to record the system audio as well as your voice, all at the same time.
With chroma keying, Bandicam lets you superimpose a video of yourself to that of the screen and merges both outputs with each other.
How to use Bandicam screen recorder
You can use Bandicam screen recorder to record your computer screen, to save PC gameplay, record webinars, YouTube videos, Skype calls, presentations, remote sessions, etc. In this brief guide, we will go over how to use Bandicam to record your computer screen with sound. Before beginning the guide, you can download Bandicam here.

Step 1: Select recording mode
To record your screen with Bandicam, start by launching the application. Next, click the tab on the top left-hand side of the screen to select a recording mode. Click the dropdown next to the tab and select "Rectangle on a screen" or "Select a recording area," depending on what you want.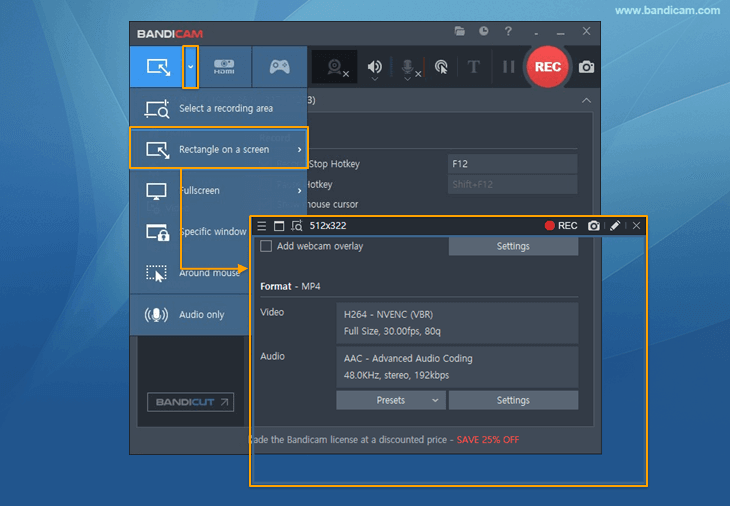 Step 2: Start recording
To commence the screen recording, hit the button at the top-right, labeled "REC," and Bandicam begins to record your screen.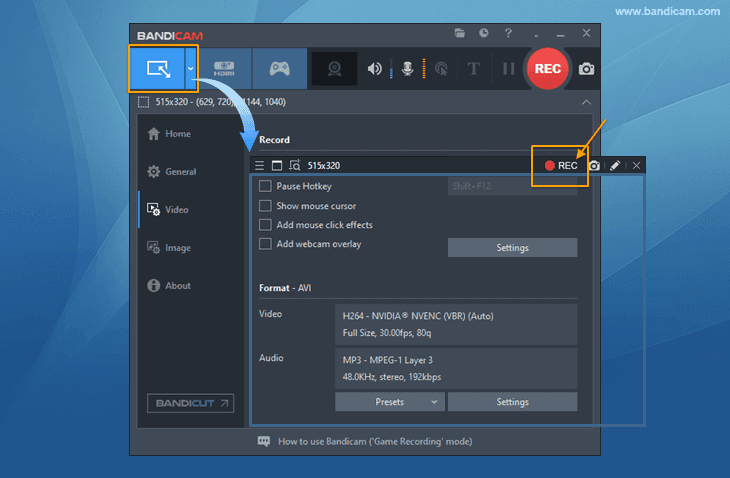 Step 3: Finalize recording
After successfully capturing your screen display, you can play, share, or upload the video. To do this, click "Home" and then hit the "Video" tab to the right. You will see the recorded videos listed here. Select the one of interest, and the following options will appear below it – Play, Edit, Upload, and Delete.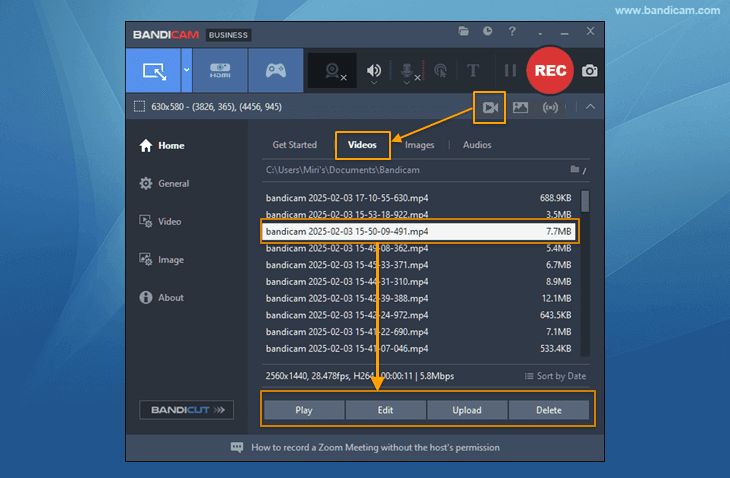 Other function (real-time drawing while recording)
To emphasize specific areas of the screen while recording, you can add text, highlight or make marks on these areas in real time. Simply click on the pen icon to reveal the tools. » See more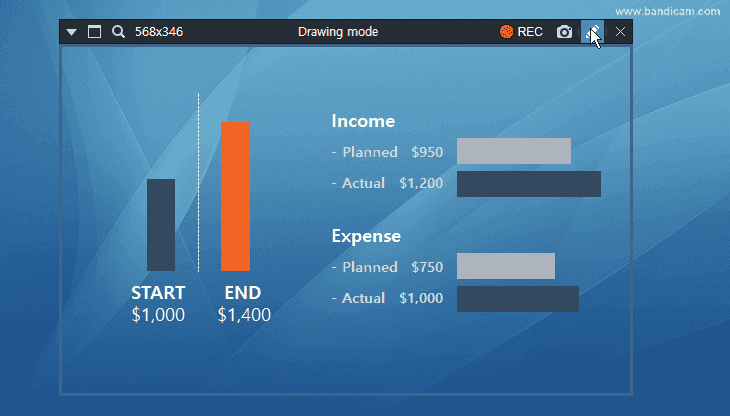 Last Updated on