The 'Bandicam MPEG-1 decoder' is the codec that is provided to play streaming videos recorded through Bandicam.
This program can be installed and used by individuals, schools, public institutions, and enterprises.
As long as the installed file will not be modified, the program can be distributed.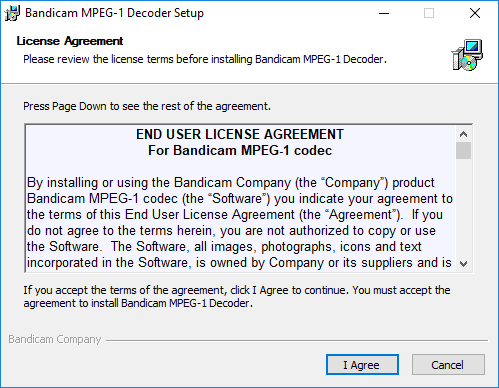 Components of the program
MPEG-1 video decoder (DirectShow Filter, Video for Windows)
MPEG-1 Layer II audio decoder (DirectShow Filter, Video for Windows)
MJPEG video decoder (Video for Windows)
Operating environment
CPU Intel Pentium III or higher (Pentium 4, Dual Core, Core 2 Duo, Core 2 Quad, Core i7 and the like)
Memory: 256 MB or higher
Operating system: MS Windows 98SE/ME/2000/XP/Vista/7/8/10 32Bit/64Bit
Codec Download
Bandicam is the most advanced screen and game recording software on the planet
Bandicam is a high performance Game Recorder, Video Capture, and Screen Recorder.
Key features of Bandicam
You can upload the recorded files to YouTube and Vimeo.
The recorded file size is much smaller compared to others (1/5~1/20).
The maximum file size is unlimited as long as the local Hard Disk has free space available (over 1TB/7days).
You will experience much less lag than with other capture programs.
(Bandicam uses less CPU/GPU/RAM resources).
Bandicam can record 4K Ultra HD videos at resolutions up to 3840x2160 in size.
(2160P UHD video can be made)
What can be recorded through Bandicam?
Various 2D/3D games: Roblox, Minecraft, PUBG, LoL, Skyrim, WOW, Overwatch, GTA, etc.
Internet TV streaming videos: YouTube, BBC, CNN, Internet lectures
Streaming video playing programs: Windows Media Player, VLC
Various Windows programs: PowerPoint, Excel, Firefox, Messenger
Desktop Screen, Skype Video chatting, Webcam, HDTV, Java/Flash games, other 3D applications.
See the recording manual