The Roblox Squid Game is the latest internet sensation, with people eager to discuss its strategy, the possible outline of following episodes, etc. The game is inspired by Squid Game, a Korean drama that is airing on Netflix, in which a group of civilians participate in a deadly survival game to win the prize amount of approximately 40 million dollars. The popularity of this show led to the development of the Roblox Squid Gameplay, turning the heads of netizens around the world.
In this article, we will explain how to play and record the Roblox Squid Game. You can also learn how to record a Roblox game with your face and/or voice.
---
Roblox Squid Game: How To Start and Play a Game
This is an open-source game with a straightforward gameplay process. Simply follow the steps below:
Step 1: Visit the official website of Roblox on your computer and sign-up with your user ID details.
Step 2: Type "Squid Game" in the search bar on the interface, and you will get a long list of Squid Game titles.
Step 3: Select the game of your choice, and press the play button. Here, one download window will appear. Click on it and download the game on your PC or laptop.
Step 4: After the download, go back to the Roblox website and tap on the join button. You will be highly engaged with the game for the next few hours.
---
How to record Roblox Squid Game and upload it to YouTube
Roblox has a built-in recorder, but the system has a few drawbacks: because there's only a 'Start' and 'Stop' button, you cannot pause the recording or adjust the recording region.
For these reasons, we would like to suggest Bandicam as the best available alternative to Roblox that lets you record with various effects and high quality. Bandicam is a free game recording software that allows you to record gameplays in high-resolution 4K UHD (3840 x 2160).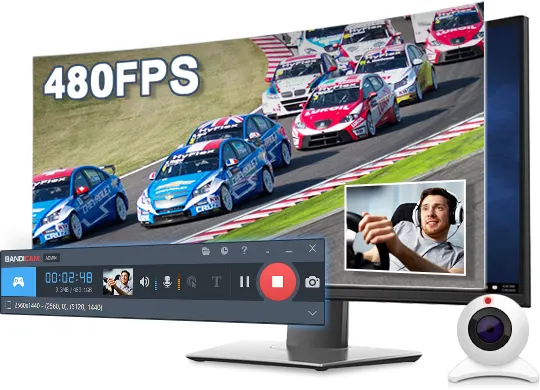 Record gameplay with voice sounds
Record any sound from your PC or laptop. You can save the voice recording file in separate WAV files.
Put Your Face in gameplay
Record games and matches with players' live faces.
Record the gameplay and upload it to YouTube
Record the gameplay and directly upload them to YouTube without additional encoding.
How to record Roblox Squid Game with Bandicam
Roblox Squid Game is the current internet storm, and YouTubers and gamers worldwide play, record, and upload them on their YouTubers and gamers worldwide play, record, and upload their Roblox Squid Gameplays to social media platforms including, but not limited to, YouTube and Vimeo. Let's check out the steps for how you can record the Roblox Squid Game.
Step 1. Download Bandicam and Start.
Step 2. Select "Game Recording Mode" and click "Yes" in the "User Account Control" window.
Step 3. Change the recording hotkey from 'F12' to 'F8' in Bandicam.
F12 is the default recording hotkey on both Roblox and Bandicam. We advise you to modify the Bandicam record hotkey to another key, such as F8, under the Video tab.
Step 4. Start the Roblox game, and press the hotkey F8 to start recording.
A green-colored number (FPS) will appear in the top-left corner when the recording target is executed. During the recording, the green number (FPS) will change to red.
Step 5. Once the recording is done, go to 'Home -> Video' to play or upload the captured videos.
You can share or upload them from Bandicam to social media platforms, such as YouTube and Vimeo.
---
Tips: Record Roblox Squid Game with your face or voice
An additional feature you will get from Bandicam is a Facecam recorder, which can record the PC screen and your face in real-time. Check the "Add webcam overlay to video" option to record the Roblox Squid Game with your face. You can also change the webcam shape to a square, circle, or ellipse.
In the Recording settings, choose "(Default Output Device)" to capture computer sound. In addition, select a microphone device if you wish to capture microphone sound as well.
Tip 3. Add text overlay: Recording date/time, CPU usage, watermark
Bandicam allows users to add a text watermark, recording date/time/timestamp, elapsed recording time, CPU/memory usage, and video resolution to the recorded video.
Summary
Bandicam allows its users to record Roblox games for free with high resolution and the finest audio-visual quality. As the Roblox Squid Game takes the internet by storm, you can't miss out on playing and recording your own gameplay. Enjoy the thrill of the game with your friends, share and upload to various social media platforms, and become an official part of the Squid Game community.