WhatsApp supports sending and receiving a variety of media: text, photos, videos, documents, locations, and voice calls. It's an internationally available American freeware, cross-platform, enabling users to stay in touch with friends and family anytime and anywhere. WhatsApp can be used on mobile devices as well as on laptops or desktop computers. This blog post will show you how to access WhatsApp from your laptop or desktop computer and record WhatsApp video calls/audio calls.
One of the great things about WhatsApp Web is that you can quickly type in messages and download images, photos, and videos directly onto your computer. It also provides video calls on a larger screen, ensures clear visibility and sound for both callers and receivers, and allows you to perform other tasks while making a video call through your PC.
The video calling features come at no cost and allow you to easily connect with your colleagues, friends, and family members. Moreover, WhatsApp is not geo-restricted to ensure that you can easily connect with users who are staying abroad.
How to Use WhatsApp on laptop or desktop
Follow the steps below to begin using WhatsApp on a PC:
Step 1: Download Desktop Client on your PC or laptop to start video or voice calls.
Note: If you plan to use WhatsApp on your PC without installing Desktop Client, you can use WhatsApp on the browser, but it will not enable the audio or video call feature. Only chat and media file-sharing are available in this option.
Step 2: Open WhatsApp on your phone, select "Linked Devices," and point your phone to the computer screen to capture the QR code.
You can now use WhatsApp on your computer. Simply click the video or call icon to make a video or audio call. You can also chat and share images, videos, or other media files by clicking the clip icon.
The desktop version of WhatsApp enables more users to enjoy connecting with people remotely; distance is no longer an obstacle when it comes to communicating over a simple video call. You can even record your WhatsApp video calls to watch at a later time or share with others. Follow the guide below to begin recording your WhatsApp calls.
How to Record WhatsApp Video Calls
The WhatsApp desktop version allows users to send and receive chats and calls, and share media files for free. You can record the video calls for later use. To record WhatsApp video calls with audio on your PC, we recommend using the Bandicam Screen recorder tool. Let's get to know more about Bandicam before we begin to use the software.
Bandicam: A Screen Recorder Software
You can record not only WhatsApp calls, but also Facebook video calls, meetings, games, movies, etc. — virtually anything on your PC screen
Its screencast video files support mp4, AVI files
You can schedule your recording and start recording automatically
Bandicam is an optimal software that can record WhatsApp video calls with audio. Follow the simple steps below to record your WhatsApp call:
Step 1: Launch WhatsApp recorder, Bandicam on your PC and select the "Rectangle on a screen" option.
Step 2: Audio configuration
Bandicam sound settings: To record both computer sound and your voice, select "(Default Output Device)" for the Speakers and "Your microphone device" for the Microphone.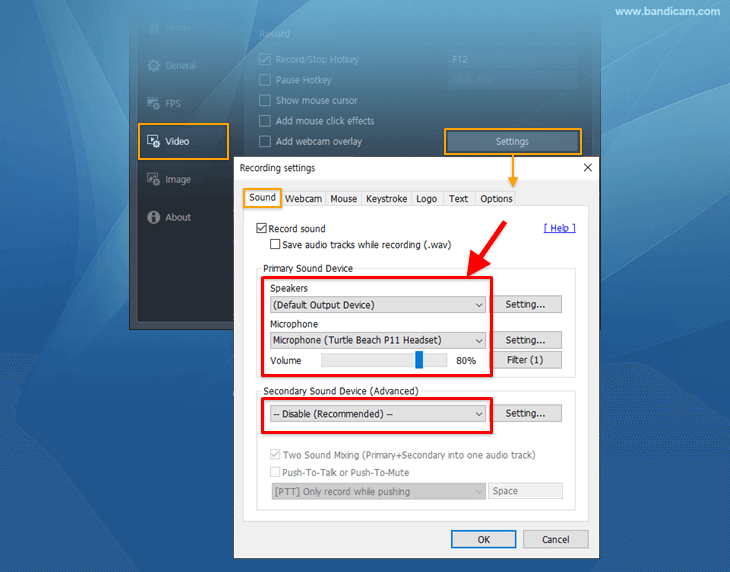 Windows settings: Please check "Do nothing" under the [Communications] tab in Windows.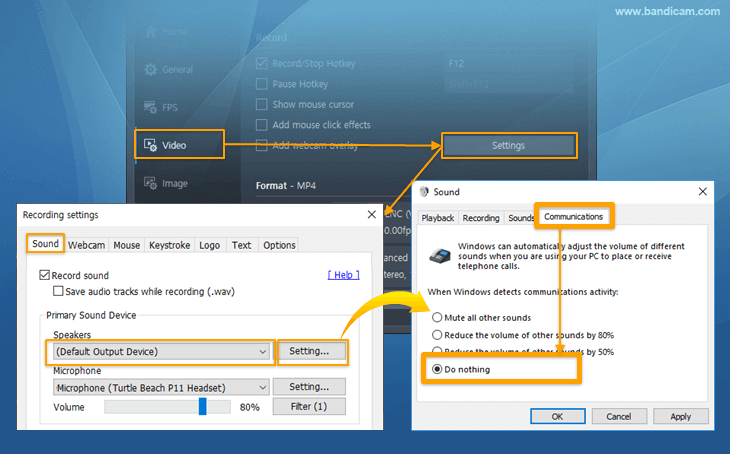 Step 3: Open the WhatsApp program on your computer, and start your video call/chat. Next, click on the ● REC button or press the shortcut keys (F12) to start or stop the recording.
Tips: WhatsApp will allow you to select a microphone, camera, and microphone devices while connecting over video or audio calls.
Select the same 'Speaker Device' and 'Microphone Device' in Bandicam and WhatsApp to record both computer audio and your voice.
Step 4: Visit Home -> Video to play and check the captured WhatsApp video.
You can now share the recorded video as a link or upload it directly to YouTube or Vimeo.
Google Drive: Upload videos to Google Drive and share them with a link!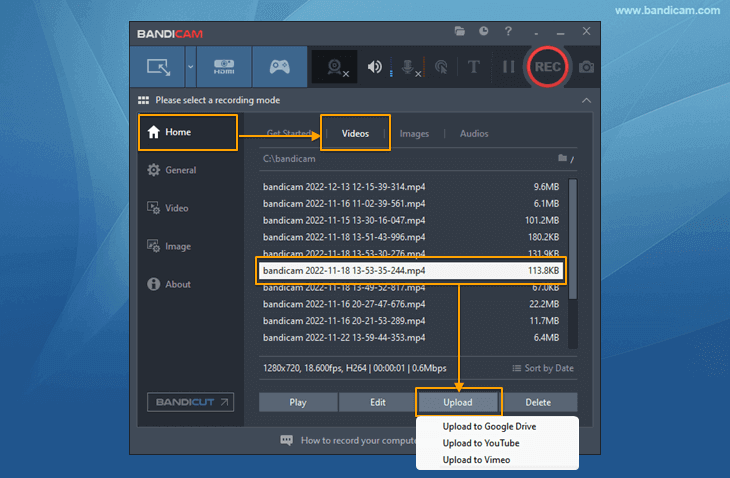 How to Record WhatsApp Audio Calls
You can also record only WhatsApp audio calls and save them as an MP3 file using Bandicam. Install Bandicam and select the Audio recording mode to record WhatsApp calls.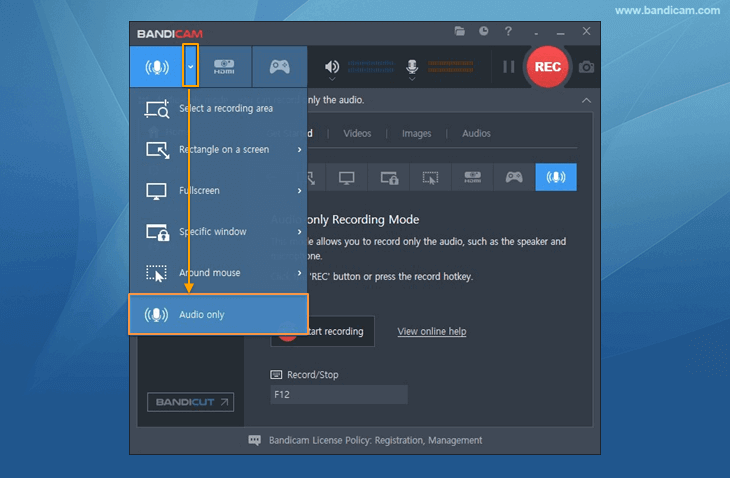 A few related tips:
While using Bandicam as your WhatsApp call recorder, you'll get a few plus points that can make your moments remarkable on WhatsApp.
Bandicam is a free WhatsApp voice recorder that allows you to record audio for 24 hours. As such, if you select the "Audio-only" recording mode in Bandicam, you will be able to record WhatsApp voice calls and save them as an MP3 file on your computer.
A Real-time drawing option is available in Bandicam. You can simultaneously draw lines, boxes, or highlights while recording in 'Screen Recording' mode.
Quickly capture your WhatsApp messages with Bandicam by taking a screenshot of a WhatsApp conversation.
WhatsApp video calls enable users to easily connect with others around the globe. If you want to know more about WhatsApp video calls or Bandicam, check our FAQ session.
Frequently Asked Questions
Q1. Is there a time limit on WhatsApp video calls?
There's no time limit on WhatsApp video calls, and calls be made at no cost.
Q2. Why can't I send videos on WhatsApp Web?
The WhatsApp messenger does not allow its users to share files larger than 64 MB. If you have a large video file, you need to compress the file or reduce its size.
Q3. What is the recording time limit of Bandicam?
With the full version of Bandicam, you can record up to 24 hours of your PC screen.
Q4. What is the best way to record WhatsApp audio calls for free?
Bandicam is the best software for recording WhatsApp calls. You can record WhatsApp audio calls for free with Bandicam's Audio-only recording mode.
Summary
Bandicam cherishes the moments you share on WhatsApp with others users, locally and globally, by recording WhatsApp video calls with audio. You can save these recordings as MP4 or AVI videos, and watch them on any device at a later time. You can also record WhatsApp audio/voice calls and save them as an MP3 file. Together, WhatsApp and Bandicam can nurture the memories you create online, easily and efficiently.