People connect with each other across the globe through various online sites. Distance, age, and language have never been a bar in this process. Anyone can connect with similar-minded people without getting to know them more personally; it is the charm of technology. Omegle chat has been serving such a purpose since its launch. This article will explain what Omegle is, how it works, and how to record Omegle video chats.
If you prefer to talk to people through a chat site, Omegle is perfect for you. You will be able to meet people with similar interests and mindsets from various countries, including your own. By offering diverse languages to communicate with users, Omegle has eliminated the barriers of space and language when meeting people online.
What is Omegle? How does Omegle work?
Omegle chat is a free online chat website. You can connect with people to chat, share your thoughts, or simply talk about personal life experiences. Omegle was launched on March 25, 2009, by an American developer, Leif K-Brookes. Though it was initially launched as a simple chat app in the English language, Omegle has developed into a service that connects people from all over the world.
The growth and popularity of Omegle led to the introduction of Omegle video chat, which enabled users to see each other with the use of simply a camera and microphone.
The Features of Omegle
You can chat through text and video chat with a webcam and microphone.
You don't need to register to chat in Omegle. It never asks for your personal information like age, country, date of birth, etc.
It is available in the browser, Android, and iOS.
You can find out more about the person you're chatting with by asking questions (must be careful not to ask too many personal questions), all while keeping your identity hidden with Omegle's Spy mode.
It offers an Interest bar where you can add strangers with similar interests.
These are the primary features of the Omegle chat service. Once you start using it, you will find more exciting features to make your online connections more thrilling.
How to Record Omegle on a PC for Free
Have you ever thought about recording your Omegle video chat with your Omegle partner? Bandicam offers excellent functionality to record your chats by capturing your PC screen as you are talking to strangers over Omegle. Its software enables the screen to record with standard picture resolution and good audio quality. Follow the steps below to capture your next Omegle video chat:
Step 1: Install Bandicam screen recorder on your PC and start.
Step 2: Select "(Default Output Device)" for the Speakers and "Your microphone device" for the Microphone in Bandicam.
Step 3: Select the 'Rectangle on a screen' mode.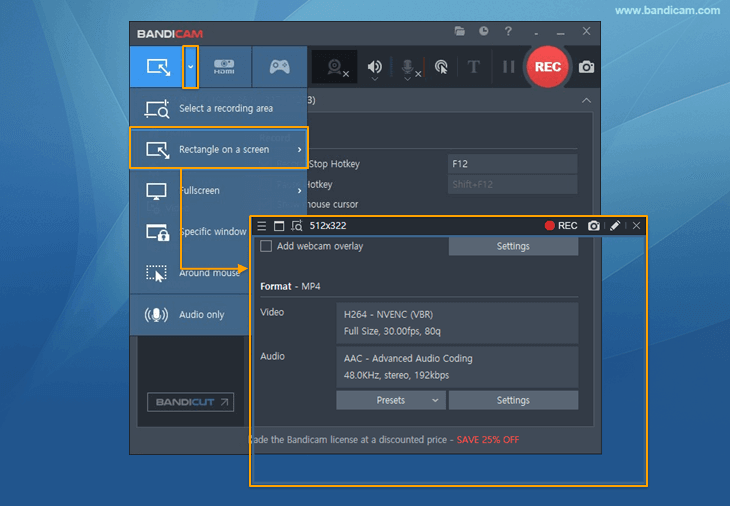 Step 4: Visit Omegle.com and start recording a random chat. Tap on the ● REC button to start/stop the recording.
Step 5: Once you've finished your video chat, stop the capturing process by clicking the ■ stop button.
Go to Home -> Videos, watch your recorded video, edit it, and if you wish, upload it on your social media accounts with an appropriate caption.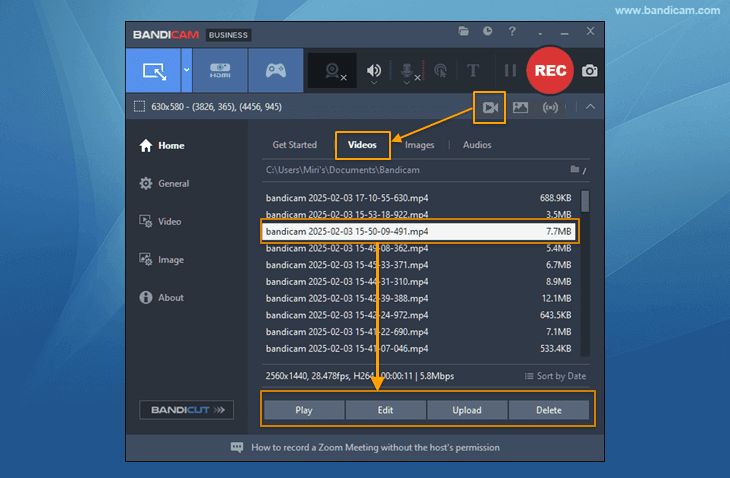 With these simple steps, you can now record your random chat talking to strangers online. By capturing your Omegle chats with various people, you will avoid potential conflicts and be safer in the online world.
The Advanced Features of Bandicam
Bandicam supports various advanced features to give you a remarkable screen recording process. Apart from recording Omegle, Bandicam can be used for many purposes, such as business meetings and tutorial productions. Whatever the reason, Bandicam always provides you the best means to record and save your PC screen for later watch.
Insert logo/text, or add mouse click effects: You can insert a logo or text to make the recording more interesting. You can also add mouse click effects or animation during the recording of your PC screen.
Real-time drawing for Screencast: You can use pen drawings and arrowheads to draw over the recording screen and make your presentation appear more professional. This feature is especially useful when recording your screen for tutorial videos.
Long-term CCTV recordings: Don't worry if your conversation goes on for hours. Bandicam can record 24-hour long videos without any interruption.
Frequently Asked Question
1. Can I record Omegle random chats with people from different countries?
Yes. With the help of Bandicam, you can record your random chats with different people from different countries.
2. Can I access Omegle chat from anywhere in the world?
Though Omegle is available in most countries, a few have banned it for its service policy. You must check whether your country supports Omegle or not. If it does, you can freely use Omegle to connect with people globally.
Conclusion
Omegle chat connects people from a variety of countries and backgrounds, with diverse hobbies, personalities, and mindsets. The Omegle talk must include a blend of personal and professional etiquette to avoid harming or offending others. In addition to chats, Omegle videos serve the purpose of seeing each other to connect more closely. Now with Bandicam, you can record your PC screen and make a memorable Omegle video chat between you and your partner.