Are you looking for a laptop recorder that has all of the latest parameters to meet your needs? Well, look no further, and use the Bandicam screen recorder! The lightweight software is perfect for your Windows PC, and it's compatible with Windows 11, 10, 8, 7, and Vista. Bandicam can capture partial or full screen with high-quality recording options.
If you have a built-in camera or webcam on your PC, you can record a video with a built-in camera, and the quality and the standard of the footage would meet the industry-standard measures. The additional benefit is that you can capture a game with Bandicam and upload it to your YouTube channel. You can record virtually anything on your PC screen as long as you have a laptop, stable internet connection, and Windows version. Want to know how to screen record with Bandicam? Install Bandicam screen recorder and find out how in this article.
Can I record a video on my laptop?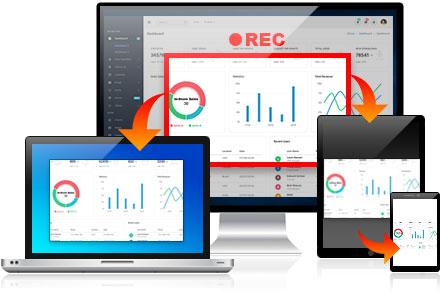 Yes, you can record anything on your laptop screen, as Bandicam performs well on a wide range of laptop models. Moreover, the software can record live news, live streaming videos, YouTube videos, and social media screen recordings such as those on WhatsApp, Instagram, Reddit, Facebook, etc.
Furthermore, you can schedule your recording with a timer; this process is an automatic, not manual, function.
How can you record your laptop screen? Let's check!
Step 1: Start Bandicam and choose the 'Select a recording area' or 'Rectangle on a screen' option.
Step 2: Click the ● REC button or press the hotkey (F12) to start/stop the recording.
How do you record a video on a laptop with a built-in camera?
Bandicam, the best laptop screen recorder, offers a device recording mode option where you can record a real-time webcam screen. The tool supports recording the external webcam device with a high-compression ratio and high quality that surpasses commercial-level quality while meeting specific parameters.
You can also add a webcam to the screen and capture them together. Bandicam supports MP4 and AVI file formats so that you can save the output files as the easy, accessible formats for your device.
How can you record a video with a built-in camera? Let's check!
Step 1: Start Bandicam and select the Device Recording mode.
Step 2: Choose the laptop webcam in Device Selection and click the OK button.
Step 3: Start webcam recording by clicking the ● REC button.
In addition to recording your webcam, you can capture either your voice or computer sounds, or even both. Bandicam offers the simplest way to capture your laptop screen with a built-in camera and an add-on microphone.
How do I record gameplay on my laptop with sound?
Bandicam is the perfect software for gamers to record their gameplay, including game sounds, and share it on various social media platforms. If you have enough experience in the gaming industry, you can also create tutorials with Bandicam's game recording mode. The software allows users to not only record games on their screen with ease, but also share them on YouTube instantly. As a plus, Bandicam records 2D and 3D games that use DirectX/OpenGL/Vulkan graphics technologies.
How can you record gameplay on your laptop? Let's check!
Step 1: Start Bandicam and select the game recording mode.
Step 2: Play the game you want to record; the FPS (green number) will appear on your screen.
Step 3: Press the F12 hotkey or ● REC button to start the recording. During the recording, the green number will turn red.
Bandicam can give you the latest game recording features with high-quality social media sharing options. The plus point is that you can continue to record for 24 hours without a break.
Essential Tips and FAQs:
1. How do I add a date and time to a video?
Bandicam has a text overlay function, which enables you to add a text watermark, recording date/time/timestamp, elapsed recording time, CPU/memory usage, and video resolution to the recorded video.
2. Can I draw on my laptop screen?
Bandicam provides a drawing tool in screen recording mode. You can draw lines, boxes, or add texts while recording the screen.
3. What do I do if the laptop camera breaks?
If you break your laptop camera by accident, there are two ways to record a video instead of using the built-in camera. The first option is to record the screen with DroidCam through your smartphone or iOS device, and the second option is to use Iriun. Droidcam does not support macOS, whereas Windows, Linux, and Iriun do.
4. How do I replace my laptop microphone?
When your laptop's built-in microphone is broken, and you need to record your voice? If you have a problem with a laptop's built-in microphone, you can use a USB microphone/headset or your smartphone as a microphone to supplement the laptop screen recorder, Bandicam.
Summary
Hopefully this detailed discussion has given you more clarity on how to record your laptop screen or capture a video with a built-in camera. Bandicam offers you a wide variety of laptop screen recording modes. The best laptop screen recorder Bandicam, thus, provides you with high-quality screen recording for any occasion, from official meetings to regular gameplay recordings.