If you are highly active on various online forums, you might have come across Reddit, where users share thoughts, comment on others' posts, and make new connections. This post will guide you to download Reddit videos with audio on your computer, Android, or IOS.
Reddit is one of the largest community forums in the U.S. People use Reddit to discover the latest trends, share unique experiences with the world, post on various subjects, and engage with like-minded people. The platform provides a brilliant space to learn, share, and grow, all while offering a spectacular means of communication for users around the world.
Key pieces of information to know about Reddit
Keep in mind the following details before you start using Reddit:
To search on Reddit, you must use the template, 'r/the topic name.'
To comment on others' posts or post something on Reddit, your account must be at least 30 days old and have a minimum number of Karma points, which is calculated by Reddit moderators.
It's worth downloading the variety of brilliant content that floats around on Reddit. Here are some easy ways to download Reddit videos:
---
Download Reddit Videos on a PC with Bandicam
Bandicam is a great screen recording software that captures your PC screen and allows you to save, watch, and share the recording piece both online and offline. With the myriad of functions it brings, Bandicam can perform as your go-to Reddit video saver. The software comes with three modes of recording: Screen Recording, Game Recording, and Webcam Recording. Once you install Bandicam on your PC, you can record your PC screen with a high compression ratio and flawless quality.
The main features of Bandicam
It records your PC screen and saves the screencast video files in MP4, AVI formats
It can capture 3D/2D games with 4K Ultra High Definition videos within 480 FPS
You can record external devices such as webcams, Xbox/PlayStation, smartphones, etc.
It helps you post videos on Reddit by providing the 'Add webcam overlay' option
You can add various effects to your video to add your own creativity to the recording
You can record Reddit videos and save them to your computer with the help of the Bandicam screen recorder. Follow the steps below to get started:
Step 1: Download Bandicam on your PC and start.
Step 2: Select "(Default Output Device)" for the Speakers to record Reddit video sounds.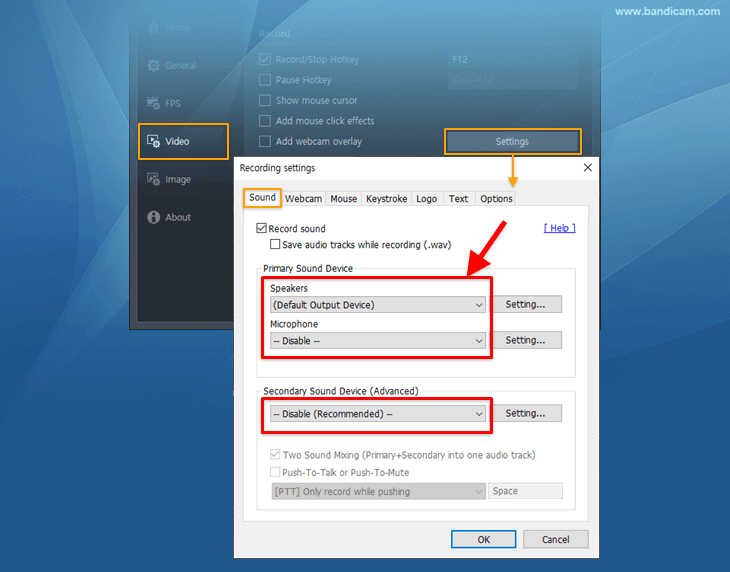 Step 3: Select a recording area or the 'Rectangle on a screen' option.
Step 4: Visit reddit.com and set the recording area on the Reddit video you wish to capture.
Step 5: Click on the ● REC button to start recording.
If you want to capture only part of the video, you can stop the recording by tapping on the stop icon. You can also pause the recording if you wish, by pressing the Pause button.
Step 6: Check the downloaded video.
To check the video, visit Home -> Video and watch, upload, or share it on other social media platforms. You can save it for a later watch as well.
---
Download Videos from Reddit on iPhone/Android
Reddit offers a mobile app for smartphone users to download content onto their personal device. However, the mobile app comes with a few limitations: the latest version of the app restricted users from downloading videos from Reddit.
We have come up with a solution for you. You can use the Reddit Client app to save videos from Reddit app. This third-party client app lets you save videos from the Reddit app and watch or share the content. Let's find out more about this process.
Best Reddit App for iPhone and Android: Slide for Reddit
Slide for Reddit is an app that is available on iPhone or Android, and provides a simple download process. The app offers compelling features and a user-friendly interface. Users can download Reddit videos in just a few clicks.
Step 1: Install Slide for Reddit from the App Store or Google Play store, and open the app.
Step 2: Tap on the video to make it full-screen; you'll see the Download icon at the bottom right corner.
Click on the Download button, and the app will start the downloading process. It'll save the video with audio and store it in your Photo Library.
This is a quick and easy way to save Reddit videos.
Alternative app to Slide for Reddit
Are you looking for a free alternative app to Slide for Reddit? If you are an Android user, try using Relay for Reddit. It's a popular third-party app that can be used by Reddit users globally. Its valuable features and clean interface encourage users to download it on their phones.
Step 1: Install Relay for Reddit from the Google Play Store.
Step 2: Go to the post and click on the video you want to save.
Press the three dots button and download Reddit videos on your Android phone
Following these simple steps will help you download Reddit videos easily and efficiently.
---
Frequently Asked Questions
Q1. Is the Reddit app mobile-friendly?
It's partially mobile-friendly. The app is available for Android and iPhone users, and the latest versions are available for both. However, because Reddit is a large community, you may not be able to check every single comment on your mobile device; certain posts may not even be mobile-compatible.
Q2. Can I treat Reddit like social media?
You can, but it's not as similar to other social media platforms, contrary to expectations. Nevertheless, you can treat it as a community forum that generates thought-provoking content and helps enrich your knowledge.
Q3. Is it safe to use Reddit?
While Reddit is a powerful platform for young adults, it is not suitable for kids. And although Reddit is generally safe for mature users, we suggest not sharing personal and sensitive data.
Summary
Reddit is a platform that shares precious content with its users, from talks on the latest news to personal experiences. If you are an active user, you might want to save or share Reddit content for later watch. Use Bandicam, the best screen recording software, to save your favorite Reddit videos and download them without hassle.