What is screencast and how does it work?
A screencast is a screen recording method that captures your computer screen's visual and aural aspects. By choosing the screen recording option, you can record your PC screen, save the recording, and use it later as needed. There are great ways to use your saved screen recordings, such as to instruct your students online with video screen captures of your lessons. To get started, all you need are a computer and software that enables screen recording with audio.
Our article will describe the top 12 screencasting software and help you select the one that best suits your needs.
What is the best screencast software?
1. Bandicam Screen Recorder
Bandicam is our first pick in our list of best screencast software. Equipped with cutting-edge technology, this software lets you record your PC screen in high-quality video. Whether you're planning to start your own YouTube game streaming channel or attend important office meetings from home, you can install Bandicam and experience a standard PC screen recording technology.
Operating system: Windows (Windows Vista, 7/8/10/11)
Key Features
You can capture real-time recordings with drawings and outlines in your video
Its webcam overlay feature lets you add a webcam to your recording video
You can schedule your recording on a daily and weekly basis
You can record your own voice
You can add mouse effects and animation during the recording
You can selectively record only the audio on your PC screen
It supports 2D/3D games with 4K UHD video and records up to 480 FPS
Pros
No need to sign in to use Bandicam
You can draw on your PC screen with a real-time drawing tool
You'll get the recording file in MP4 or AVI format
In addition to PC screen recording, it supports webcam, Xbox, PlayStation, Smartphone, IPTV recording
Cons
It's only compatible with Windows
2. Camtasia
Camtasia produces good results in screen recording aspects. Created and developed by TechSmith, the software can record your tutorial videos and presentations through screencast; you can also opt out for direct recording. Camtasia is compatible with Windows and Mac, and it can simultaneously record Microsoft PowerPoint and other multimedia recordings.
Key Features
You can record your PC screen, websites, software, video calls, and many more
You can add effects to your recorded video file
It offers templates and themes to create customized videos
It provides a transition to use between scenes
You can add annotations and music to bring liveliness to your videos
Operating system: Windows and Mac
Pros
It offers a massive collection of effects, interactivity, and quiz elements
It has PowerPoint integration
It supports all major file formats
Cons
The software is expensive
Need to sign in to start a trial
Users have to go through rendering process after recording
3. OBS Studio
You can try OBS Studio if you want an open-source and cross-platform screencasting software. It supports live streaming, and you can mix and produce live video files if needed. Moreover, if you have an account on major social media and game streaming platforms, you can record a live video and save the file for later use with OBS Studio.
Key features
It offers real-time capturing and mixing of video and audio
It supports custom transitions to help you with unlimited scenes
It provides an audio mixer with a per-source filter option
It can run with VST plugin support
You can set the configuration anytime you want
Operating system: Windows, Mac, Linux
Cons
There is no schedule recording feature
There are no drawing tool options
The user interface is complicated
4. Screencast-O-Matic
Screencast-O-Matic is a screencast software that you can directly download from the browser. Its simple and intuitive interface encourages educators and instructors to use the software in their respective fields. For example, Screencast-O-Matic can help users create videos for tutorials and/or marketing. Moreover, the software's edit option provides users the opportunity to produce customized videos.
Key features
The tool can capture PC screen, webcam, and sometimes both
You can record a video for up to 15 minutes
A primary video editing option is available
It offers free music tracks
You can add captions to your recorded file
Operating system: Windows, Mac, iOS, Android, Chromebook
Pros
The tool supports multiple platforms
It provides an edit option
It offers a free trial
Cons
It's a comparatively low-speed tool
There is no game recording option by hooking method
5. EaseUS RecExperts
If you're looking for a simple and smart screencast software, try EaseUS RecExperts, with which you can capture your video, audio, and webcam. The best part of this tool is that it can record your screen with both internal audio and your microphone together. In addition, the tool provides fantastic service by recording games, streaming social media, etc.
Key features
The tool can record games in 144 FPS without a tag
It can capture anywhere on your screen
It can capture webcam, along with your voice
A scheduled recording option is available
You can create a screencast during the recording
Operating system: Windows, Mac
Pros
It can create GIFs out of the recording clips
The Edit Recording option is available
It supports various file formats like MP4, MOV, AVI, MP3, etc.
Cons
The editing feature is limited and needs improvement
The free trial only allows two minutes of video capture
6. Icecream Screen Recorder
If you're new to screen recording, try Icecream Screen Recorder turn to be your screencasting software. Its easy-to-use features let you record PC screens, WhatsApp calls, live streams, video tutorials, etc., offering many benefits for its users.
Key features
During webcam recording, you can adjust the shape and size of the webcam window
You can record your audio for PC, along with computer and microphone audio
A scheduled recording option is available
The Edit Recording option is integrated
It has an instant share option
Operating system: Windows, Mac, and Android
Pros
It supports the latest version of Windows
You can add your personalized logo to the recording
You can enable the hotkeys feature
Cons
It cannot record for more than 5 minutes
There is no text-overlay/logo option
7. QuickTime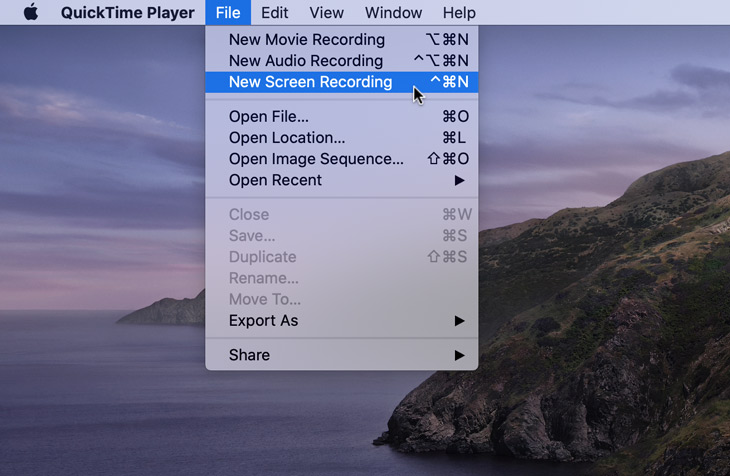 Developed by Apple, QuickTime is a multimedia player that helps users control on-screen playback, with options to play, pause, fast-forward, or rewind video and audio files. Users can utilize these playback controls to play media files on AirPlay. Additionally, QuickTime can change the playback speed of a file.
Key features
It can record your device screen
Its Microphone option lets you record your voice and/or your device audio while recording
It offers the primary editing option
It supports the MOV file format
The social media share option is available
Operating system: Mac
Pros
It plays a dual role: playing videos and recording the screen
It offers basic editing
It's free to use
Cons
The loading option creates an issue for large files
No schedule recording option
8. Wondershare DemoCreator
Another quality product is DemoCreator. The lightweight screen recorder instantly captures your PC screen and lets you enjoy the recording at a later time. Its advanced features offer many functional benefits to its users—the tool supports HD screen recording without any lag.
Key features
You can record your device screen
Its fancy effects make the virtual recording an exciting task
An instant gameplay recording option is available
Customized recording option for high-definition screen video
Customizable recording shortcuts are also available for pro users
Operating system: Windows and Mac
Pros
The screen drawing tool allows you to write and draw on the recording
Scheduled recording option is available
It can record multiple monitors
Cons
The free version displays watermarks
You need to sign in to save the recorded videos
9. Screencastify
Millions of people use Screencastify to screencast device screens and record, edit & share videos. It's a simple Chrome-based app that enables both beginners and professionals to record their device screen.
Key features
You can record your device screen
Edit option is available with this tool
You can instantly share on social media platforms
You can save your recording in Google Drive
Operating system: Chrome-based tool
Pros
It's a simple tool
Easy to use for beginners
It's free
Cons
No advance recording option is available
10. Loom
Try Loom if you are a corporate professional and have to attend remote meetings frequently. The software allows users to record a quick video, share the recording link, and update their teams about any upcoming projects. It's a straightforward yet effective tool to record official meetings with a quick note.
Key features
You can use it as a video messaging tool
You can record your device screen and microphone simultaneously
A link-share option is available to share the recording instantly
Operating system: Windows, iOS, Android
Pros
It's an especially excellent tool for the corporate field
A quick link-share option is available
It supports all major devices
Cons
There is no audio-only recording option
The price policy is not user-friendly
11. ApowerREC
ApowerREC is a cross-platform software that helps users record their device screens for professional and/or personal use. The tool offers many benefits that meet current requirements.
Key features
It helps you to record your device screen
You can record webcam with and without a screen
You can record the system sound and microphone at the same time
You can add annotations
It offers basic editing options
Operating system: Windows, Mac, Android, and iOS
Pros
It offers a scheduled recording option
Zoom recording is also available
It provides a spotlight and locked window recording
Cons
1 min recording for the free version

Customer support is not really responsive
12. Xbox Game Bar
Xbox Game Bar is a built-in feature in Windows 10/11 that allows gamers to access various gaming features such as game streaming, screenshots, and video capture, social features such as friends list and messaging, and system performance monitoring all in one place. It can be launched by pressing the Windows key + G while playing a game or using any other application, and it is customizable to fit the user's preferences.
Key features
Users can capture screenshots or record gameplay footage while playing games
The Xbox Game Bar offers users real-time monitoring of CPU, GPU, RAM, and network usage during gameplay
Users can connect with their Xbox Live friends, join or create parties, and manage notifications
Operating system: Windows 10/11
Pros
Easily accessible for all Windows 10/11 users
It is a free screen capture tool
Users can send quick messages to their friends on Xbox
Cons
The Xbox Game Bar recording feature isn't available for desktop screen, which means users have to open at least one application to do screen recording

Cannot record multiple monitors
No support for Schedule recording
The top 12 screencast software listed above are all relatively good performers that produce satisfactory results for users. Follow the FAQs below for a few more tips about screencasting.
Frequently Asked Questions
Q1. How do you use screencast recorder?
Choose the screencast software that best suits your needs, and start screen recording. You can record your screen and audio together with any of the screen recorders introduced above.
Q2. How do you screencast on a Mac?
Mac users can perform screencasts with the help of QuickTime Player, which helps record the screen along with the audio. To start the recording, simply open the app from your application folder and follow the given instructions.
Q3. What is the best free screencast software for Windows?
Bandicam is the best screencast software in the screen recording aspect. The tool is designed to meet both professional and personal requirements for free.
Conclusion
Are you an educator, CEO, project manager, etc., who has to frequently interact with team members and colleagues? If so, you should try using the screencast feature and avail of the benefits of meeting with your team remotely to quickly circulate important information. With plenty of screencasting software available on the market, you have the option to pick the one that best suits your needs.