February 4, 2014 | Bandicam Company « News / Review list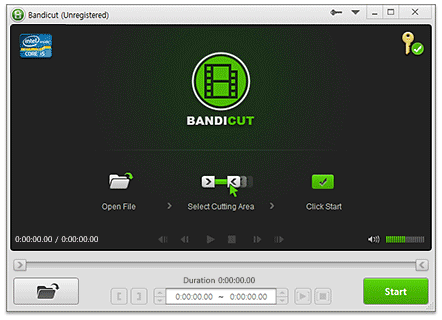 Bandicam Company, the developer of Bandicam, released a new video cutting program called Bandicut.

Bandicut is a very fast video cutting program with an easy-to-use interface. This program is able to cut videos without encoding, and the user can clip a part of a video quickly while maintaining the quality of the original video. It also supports the hardware-accelerated H.264 video encoders of Intel.

Bandicut has two modes, High-speed mode and Encoding mode.

High-speed mode allows users to cut videos without re-encoding as a result the quality is lossless and the cutting speed is faster than any other software.

Encoding mode allows re-encoding if the user wishes to change the codec, resolution or quality of videos according to their needs.

The user can save the video as an AVI or MP4 file.

Bandicut supports common codecs such as H.264, Xvid, MPEG-1 and Motion JPEG. Bandicut also supports hardware acceleration using Intel Quick Sync Video provided your CPU has this functionality.

About Bandicam Company
Bandicam Company, developer of Bandicam and Bandicut, is a multimedia-based company that includes a business-to-business game capture library and video library solutions.
Bandicut is a well-known in the online game developer community. Many online game companies such as NC soft, Nexon, Tencent, Dragonfly, and Eyedentity Games are using Bandicam Company's multi-media and data-compression solutions.


Other Bandicam reviews