April 10, 2012 | findmysoft.com « News / Review list
Bandicam Editor's Review Rating
Bandicam has been reviewed by Frederick Barton on 10 Apr 2012. Based on the user interface, features and complexity, Findmysoft has rated Bandicam 5 out of 5 stars, naming it Essential


The best way to explain something over the internet is to illustrate it. If someone does not know how to run a certain application or how to use it, a video will help him. Most programs are too complex for screen recording. If you want to illustrate a simple task, you will have to wait for a loading screen, navigate through many options and get caught in output settings. Bandicam offers a straightforward solution. It features a simple interface, with every option you need and it lets you record and save the project immediately.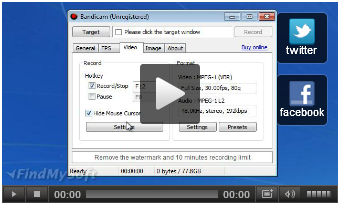 Bandicam can be installed faster than other recorders. Its setup kit is 5.33 Mb large and the setup wizard will not slow you down with additional options. It is compatible with most Windows operating systems and the system requirements are low.

Besides recording, the software also lets you take screenshots. Video or image related options can be found under different tabs on the interface. You can assign a hot key for starting or stopping the recording or taking a screenshot. It is also possible to set a FPS limit for the recording process, choose an output format for both images or videos and more.

There are two ways to record a program or anything else displayed on the screen and you can choose a method from a pop up menu, after clicking the Target button in the upper left corner of the interface. You can choose a rectangle tool, which will be placed on your screen. It can be resized like a normal window and you can use it to take a snapshot or record a region of the screen. The record and snapshot options can be found on the upper edge of the rectangle. Moving the rectangle is possible at any time, even when recording.

Bandicam can also record programs which use DirectX or OpenGL graphics technology. This is the second recording method and it can be used to record even games such as World of Warcraft, Minecraft or Skyrim. There are no output settings to make when you stop the recording. It is saved automatically, according to the configurations you made on the interface.

Pros:
The quality of the recordings is good, even with a high compression ratio. Bandicam features a compact interface which lets you record or take snapshots of your screen instantly. It lets you record either a DirectX/OpenGL program or a certain region on your screen, using a rectangle tool.

Cons:
A link placed on the bottom edge of the interface will take you to a "how to" video, but only in Internet Explorer.

You do not need to waste your time with complex recording options. Bandicam's features can be accessed faster and it offers the same recording quality.


Source: http://bandicam.findmysoft.com/

Other Bandicam reviews