If you've just dipped your feet into the world of videography, you might want to get started with free video editing software for PC. With the latest boom in the videography industry, it is evermore valuable to acquire the skill of video editing. Therefore, a video editor for Windows is an integral part of your video editing journey.
This blog post will show you how to edit videos on your laptop with Bandicut, which works perfectly on Windows 11, 10, 8, 7, and Vista.
We can divide video editing into three parts: cut, split, and merge. Install Bandicut video editor and find out how to get started with your video editing journey in this article.
Part 1: How can I cut videos on my laptop for free?
If you want to cut the length of your video remote meetings, the 'Cut' feature will work out perfectly in your favor. Bandicut, a free editing software for PC, allows users to cut extra parts, remove them from the main video file, and produce a precise version. Within a few clicks, you can cut videos on a laptop and produce a professional final product.
Let's check out the steps to trim videos:
Step 1:

Start the Bandicut program on your laptop and tap the Cut button.

Step 2: Choose and open the video you want to cut by clicking on it.
Step 3: Set the beginning and finishing points of the portion you want to save, and tap on the 'Start' button.
With these simple steps, you can edit GoToMeeting, Zoom recordings, video calls, etc. And with Bandicut's flexible Upload function, you can share your videos on social media platforms, such as YouTube and Vimeo.
Part 2: How do you split a video on Windows?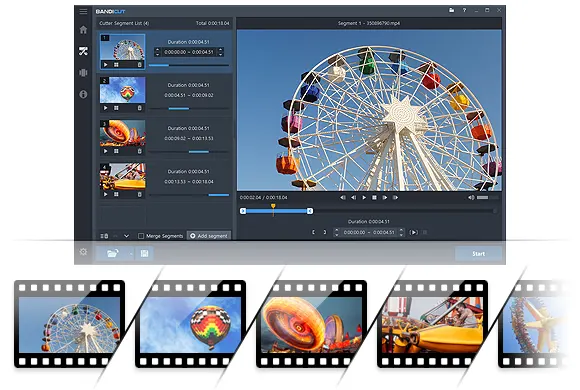 Various social media chatting apps, such as WhatsApp and Instagram, place a limit on video file size; if you exceed this limit, you will not be able to share videos on these platforms. To reduce your file size and solve this issue, you can use Bandicut, which allows you to split a video based on a selected number of segments or the duration of each segment. Bandicut also supports several input video formats such as mp4, avi, mkv, mov, mpeg, etc.
Let's check out the process to split videos on Windows:
Step1: Start Bandicut and click the 'Split' button.
Step 2: After selecting the video file, click on the Open button.
Step 3: You can split the video into multiple parts by number or duration of segments. Select the split option, tap on the Apply button, and click the Start button.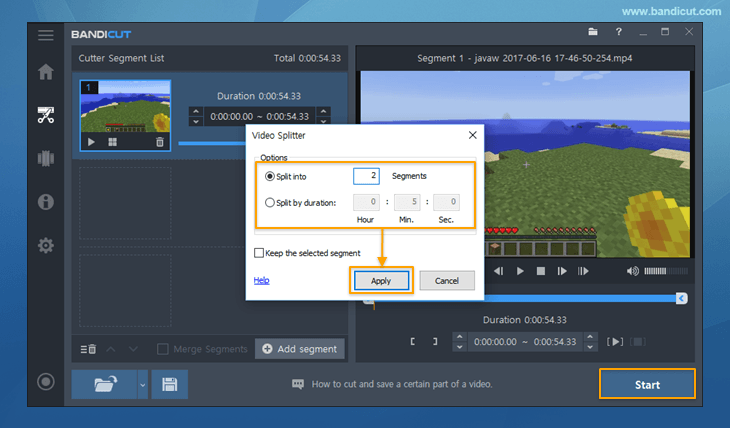 This is the best way to split a video into multiple, separate videos, which can be useful for uploading on Instagram stories or WhatsApp. Bandicut also allows you to quickly reduce video file size and compress videos for social media.
Part 3: How can I merge videos on my laptop for free?
Whether you want to create a special video of your personal moments or craft a collage for a friend's birthday, you can easily merge multiple video files into one with Bandicut for free on your laptop. Merging will not affect the video quality, and you'll be able to get a standard merged output file using Bandicut's video joiner functionality.
Let's check how to join multiple videos:
Step 1: Start Bandicut and click on the Join button.
Step 2: Choose the multiple video files you want to join, and tap the Open button.
Step 3: Check and change the video sequence, and click the 'Start' button.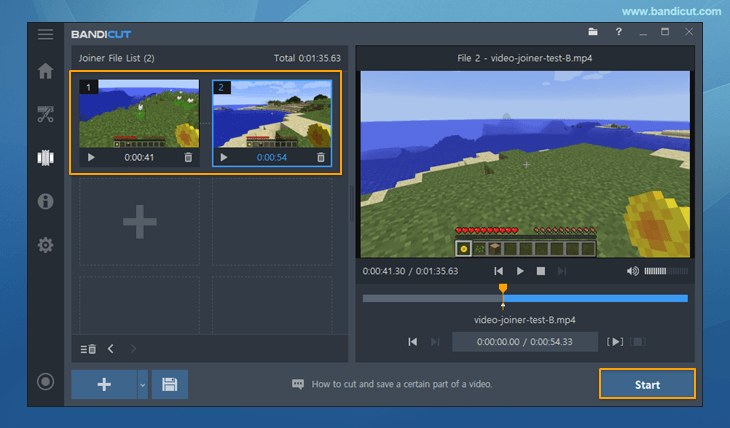 Once the merged file is ready, you can upload it directly to social media or simply play it back for yourself.
Additional Tips
1. How do I separate audio from video in Windows?
If you want an mp3 file, you need to separate them from the video. Bandicut allows users to extract audio from the main video file that helps you keep the tracks you love to listen to anytime you want to relax. The plus point is that you can not only extract audio but also remove it from a video.
2. How do I extract an image from a video?
Bandicut can swiftly extract an image from a video of your choice. The video editing for PC software allows you to save the image file as a PNG on your laptop or desktop.
3. What is the best video editing software for Windows 11?
Compatible with Windows 11, Bandicut is a video editor for Windows, perfect for your PC or laptop. You can easily edit your videos with Bandicut on Windows 11.
4. How can I speed up a video for free?
The normal video playback speed is 1.0x. You can set the playback speed of a video file from 0.5x to 99.9x with Bandicut for free to speed up or slow down your video.
Conclusion
Video editing is associated with a creative mindset. Expand your creativity in video editing by working with the free editing software for PC, Bandicut. With Bandicut, you can practice developing your video editing skills or begin editing your Zoom or Skype calls. With the blessings of the technologically advanced software Bandicut, you can edit any video, save it on your PC, and watch or share it on any social media platform of your choice.