How to capture a Still Image from Video
You might need to take a still image from a video and save it as a PNG file. If you click the camera icon in the Bandicut window, you can capture an image from the video frame in the original quality. The video frame is saved as a PNG image file. This function is very useful for making video thumbnails for YouTube or other video sharing sites.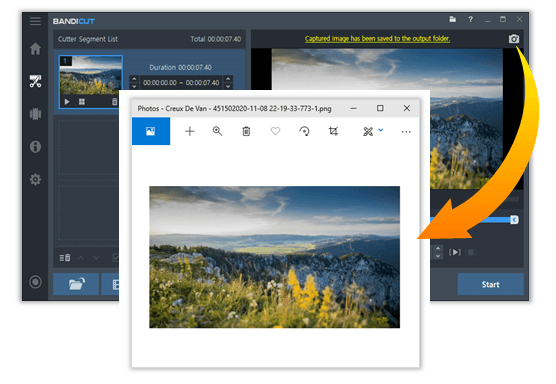 Try Bandicut Video Cutter!
Download Bandicut (Free)
Save the video frame as a PNG image
Simply move the slider and click the camera icon to capture the video frame.

&nbsp &nbsp &nbsp &nbsp Tip) If you move the current video location with the Mouse Wheel, you can precisely select a video frame to be captured.

"Captured image has been saved to the output folder." By clicking on this text, you can immediately check the captured image.
If you click the "Folder" icon, it allows you to open the Bandicut output folder with Windows Explorer.
Take a frame from a video in Bandicut!