If you've ever been on YouTube, you might have encountered a diverse range of videos, perhaps inspiring you to make a video of your own. As you start exploring videography, you will want to think about video editing software that can help shape your imaginative and innovative skills. Video editing software, such as Wondershare Filmora, offer complicated features and advanced user interfaces, often at an extraordinary cost. So, what is the solution?
If you are looking for lightweight software with a comparatively easy interface that offers a video editing and recording program, you've landed in the right place. This post will introduce you to the best free alternative to Filmora, a screen recorder and video editor excellence at par.
1. Bandicam: The best alternative to Filmora
Bandicam is a lightweight free screen recording software that can record everything on your screen. The software functions in versatile ways, offering functions such as audio recording, webcam overlay, real-time drawing, scheduled recording, etc. Let's unbox the definitive feature list of Bandicam, an alternative to Filmora.
| | | |
| --- | --- | --- |
| | Bandicam | Wondershare Filmora |
| Record Screen | O | O |
| Record Webcam (Device) | O | O |
| Record game by hooking | O | X |
| Real-time Drawing tool | O | X |
| Schedule Recording | O | X |
| User Interface | User-friendly | Complicated |
Bandicam offers three screen recording options: screen recording, webcam recording, and game recording. It covers three aspects and provides you with a wide-screen recording option.
Screen Recorder
Bandicam is an easy-to-use free screen recorder that enables you to capture everything you want on your PC screen. With the Bandicam screen recorder, you can do a variety of things, such as record your Zoom meetings, movies, video films and YouTube videos, or make a tutorial/educational video.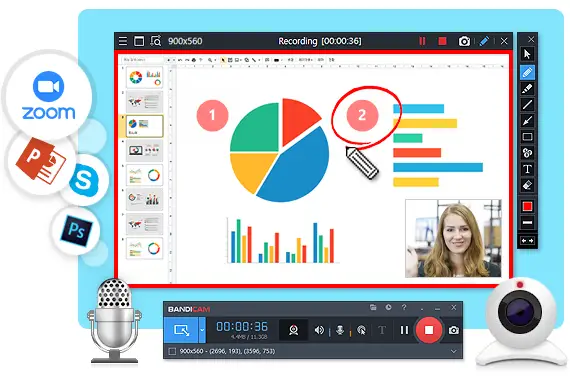 Real-time drawing: You can use pen drawing, arrowheads to highlight on their screens when making educational or tutorial guide videos
Schedule recording: It enables users to automatically start recording "at a specific time on a daily/weekly schedule"
Add a facecam to videos: You can capture the computer screen and webcam feed together
Webcam Recorder
The device recording option in Bandicam allows you to record webcam, Xbox, PlayStation, smartphone, IPTV, capture cards, camcorders, etc., in superior quality. The plus point is that you can save the video recording file in MP4 or AVI formats.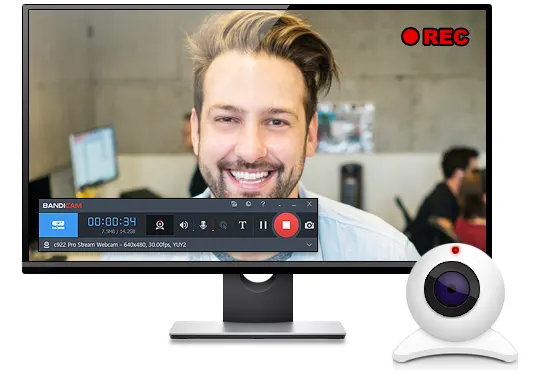 Game Recorder
Bandicam allows you to record games of high-resolution through hardware acceleration. How the best alternative to Filmora Bandicam can help check below: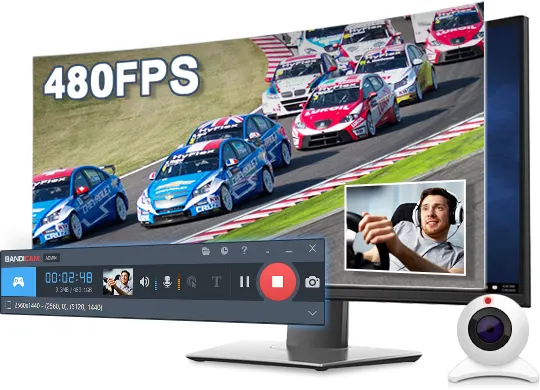 The versatile screen recording software, Bandicam, helps broaden creative wings and hone innovative skills for novices and professionals alike.
2. Bandicut: An excellent video editing tool
Filmora certainly offers a variety of features in video editing, such as speed ramping, masking, auto beat sync, etc. However, if you are a beginner and are looking for a simple and lightweight editing program, Filmora might not be an ideal solution. With an easy interface and simple video editing functions, Bandicut is the best alternative to Filmora.
Bandicut offers cutter, joiner, splitter, and trimmer functions. The tool provides all of the necessary elements; simply click a few buttons, and your editing task will be completed. The tool functions in three ways: cutting, splitting, and joining videos.
Video Cutter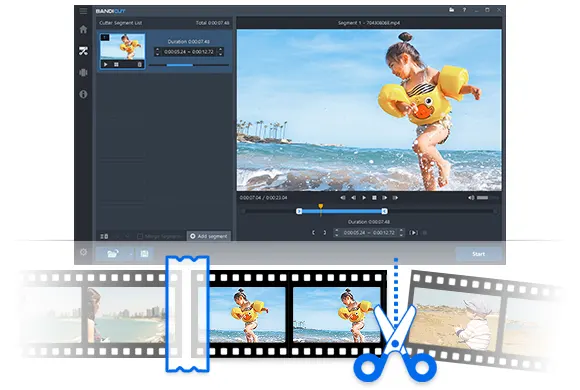 Bandicut allows you to cut and save specific parts of a video with its high-speed mode. Bandicut's High-Speed Mode doesn't proceed with rendering, so that a video file can be quickly edited while having its original quality maintained.
Video Splitter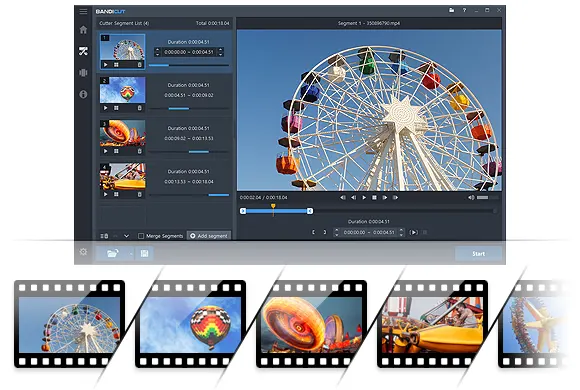 Bandicut's splitting function offers an easy, time-efficient way to divide a large video file into multiple segments. You can split a video based on either the selected number of segments or the duration of each segment.
Video joiner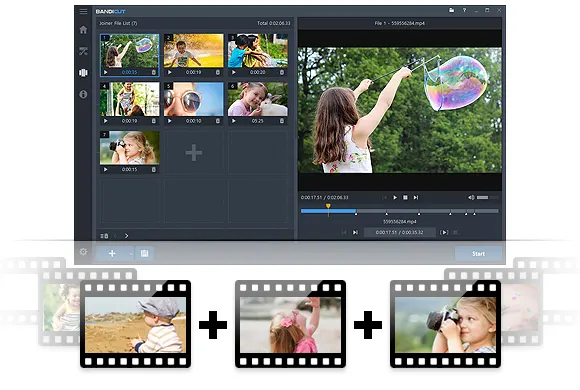 Have you ever wanted to create a collage of distinctly captured moments, or put different video files under one frame? Bandicut helps users join different videos into a single video.
More features for editing videos in Bandicut
In addition to cutting, dividing, and merging, Bandicut provides many more essential functions:
Bandicut provides simple features needed for editing, making it an efficient alternative to Filmora.
Summary
The upscaling videography industry has witnessed brilliant minds excel in their skills. A free alternative to Filmora, Bandicam is a screen recording software that offers users many excellent features. Further, try using Bandicut, which is an easier and simpler video editing alternative to Filmora.