Online classes, meetings, webinars, and tutorials are the latest trends in our everyday lives. All of these online sessions are full of a wide range of information that may be too overwhelming for you to absorb in one shot. So, the solution? Capture your screen and watch the recording as many times as you want until you are equipped with the subject matter. Movavi Screen Capture comes to your rescue if you feel it's troublesome to remember online sessions. In this Movavi review article, you will learn more about Movavi's features and pros & cons, as well as how to use the tool.
What is Movavi Screen Recorder?
Screen recording requirements are demanding with dynamic business trends, and Movavi Screen Recorder perfectly works to meet these ends. The software is well-versed in its functions and comes with simple and easy use. For example, if you want to capture webinars, online meetings, streaming videos, and various tutorials, you can rely on Movavi. The tool comes with multiple functions, which marks it as a top-notch software in the screen recording software industry.
Features of Movavi Screen Recorder
The multifaceted software offers enhanced functions and features for its users. Exclusive features enable users to capture their device screen and use the recording anytime and anywhere. Below are Movavi's key features:
1. Grab audio and video
With its screencast effect, you can record your microphone, webcam, and PC sounds altogether in an entire session. You can also record audio and video separately if needed.
2. Draw on videos
You can enable this feature if you want to draw over your screen for tutorial purposes. Movavi Screen Recorder allows professional gamers and live streamers to connect and engage with their audience.
3. Edit the recording and save the file
Movavi Screen Capture supports various file formats, including, but not limited to, MP4, AVI, MOV, MKV, GIF, and JPG. Moreover, the tool allows you to edit during the recording. After the recording process, you can save the file in any format and storage method of your choice.
Movavi offers more to its users beyond these three significant features. For instance, you can schedule your recording in Preset Mode, and the device will start the recording automatically. You can also display your mouse and keyboard to your viewers while recording the screen. Further, you can capture audio and webcam separately if needed.
Is Movavi free? Movavi Screen Capture Price
There is a trial version for Movavi Screen Recorder, but it adds a huge watermark to the final video (as shown in the image below), and can only be used for 7 days. It can be challenging to use Movavi for free because of the watermark size. Movavi's pricing is divided by business vs. personal licenses. A business license comes with a $85.95/year subscription, and a personal license starts at $42.95 for 1 PC use.
How to Use Movavi Screen Recorder
Movavi Screen Recorder offers a simple, easy-to-use interface for its users. After installing the software on your PC, simply click on the video icon and record button to start recording. Once you're done recording, you can edit and save the file in the format of your choice.
Pros & Cons of Movavi Screen Recorder
Although Movavi is one of the best screen recorders on the market, it has its downsides as well. Below are some key points you should know before using Movavi:
Pros
You can use Movavi for personal and/or professional use
It supports a fast screenshot editing option
Audio and video can be recorded separately
There are multiple export options
The schedule recording option is available for auto-record
Cons
The free version adds a huge watermark to the video and is available for only 7 days
It does not support game recording mode using the hooking method
The text overlay effect is not available
The video editing option is not up-to-date, and you'll need a separate tool for advanced editing
The Best Alternative to Movavi Screen Recorder: Bandicam
If you want to bypass the limitations of Movavi Screen Recorder, you must try Bandicam screen recording software. Bandicam provides high-quality screen recordings on your PC, partial or full screen. The screen recorder comes with various options, such as recording games that have Direct X, OpenGL, and Vulkan graphics technologies.
Why is Bandicam the Best Alternative to Movavi Screen Recorder?
There are notable points that differentiate these two software. For example, Bandicam supports game, webcam, Xbox/PlayStation, smartphone, and IPTV recording for live streaming, making it an excellent option for gamers.
Bandicam Screen Recorder
Movavi Screen Recorder
Schedule recording
O
O
Webcam recording
O
(Record various devices such as webcam, Xbox, IPTV, etc.)
O
(Only webcam device)
Game recording (by hooking)
O
X
Text overlay
O
X
Both Bandicam and Movavi support webcam recording. However, with a capture card, Bandicam can record various devices such as Xbox, PlayStation, IPTV, etc.
Bandicam's Game Recording mode allows users to select a game target using the hooking method. You can record your live gameplay and voice, and share it on YouTube.
You can add a text watermark, recording date/time/timestamp, elapsed recording time, CPU/memory usage, and video resolution to the recorded video. The text overlay will be added to the entire video you're recording.
How to Use Bandicam
Whether you are a beginner or an expert, Bandicam is software that anyone can use easily. Download Bandicam Screen Recorder, select the Screen Recording mode, and click on the ● REC button to start recording! You can continuously record for 24 hours without any glitches.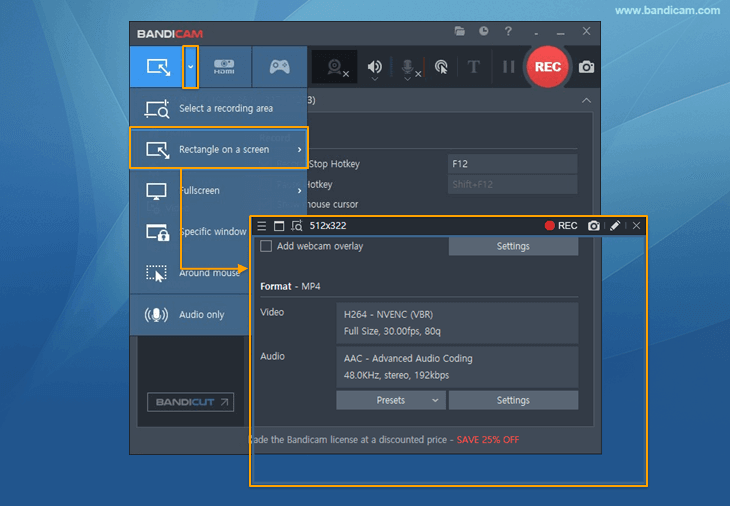 Summary
Movavi Screen Recorder comes with a total recording package, serving users many features and benefits for various online events. If you are looking for alternative software to Movavi Screen Recorder due to its limitations, Bandicam Screen Recorder is your way to go.