How to edit DVD (VOB) files - DVD/VOB/TS/MEPG Cutter
Do you want to edit DVD (VOB) files without losing quality?
The latest versions of Bandicut (3.1.5 or higher) can cut MPEG videos (MPEG, MPG, DAT, VOB, TS, TP, TRP, M2T, M2TS, MTS, VOB) with High-Speed mode, which allows you to edit DVD (VOB) videos quickly while maintaining the quality of the original video. Please download the setup file from the official website of Bandicut to edit DVD (VOB) files.
Try Bandicut Video Cutter!
Download Bandicut (Free)
To edit DVD / VOB files, please follow the steps below:
1. Import the DVD (VOB) file.
Download the free version of Bandicut, start Bandicut, and import the DVD (VOB) file.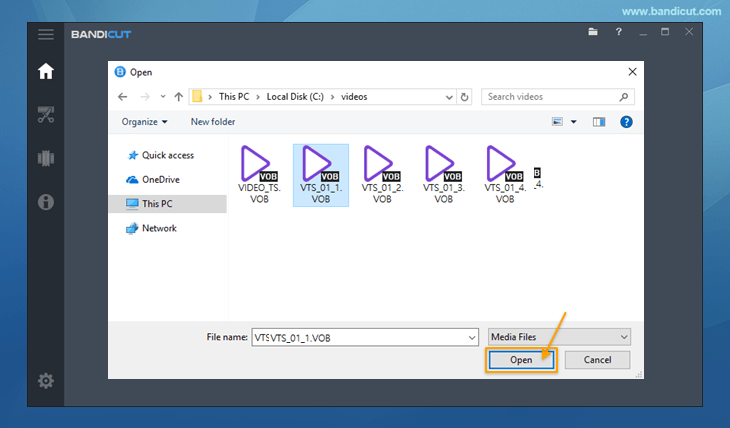 2. The 'Preparing your file(s) for editing' message will be displayed.
If the index/time information is not properly analyzed by Bandicut, Bandicut will automatically rebuild the information by creating a new video file in the output folder with the correct index/time information.

3. The newly created video file will be added automatically.
If the original file name is "VTS_01_1.vob," a new "[Bandicut]VTS_01_1.vob" file will be added to Bandicut.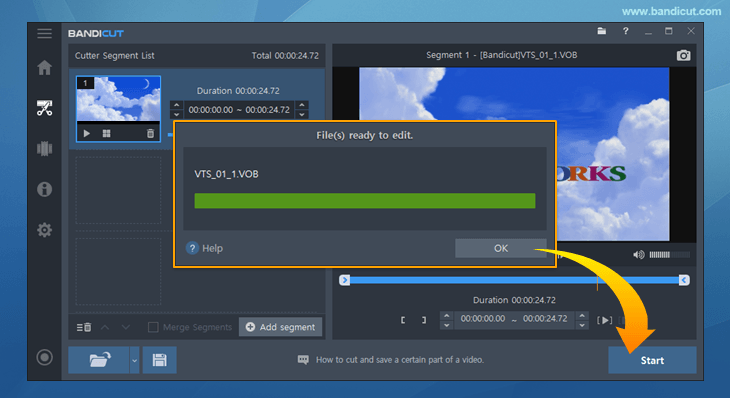 4. You will now be able to edit the DVD (VOB) files.
Refer to the "What is the Difference between [High-Speed mode] and [Encoding mode]?" page for details.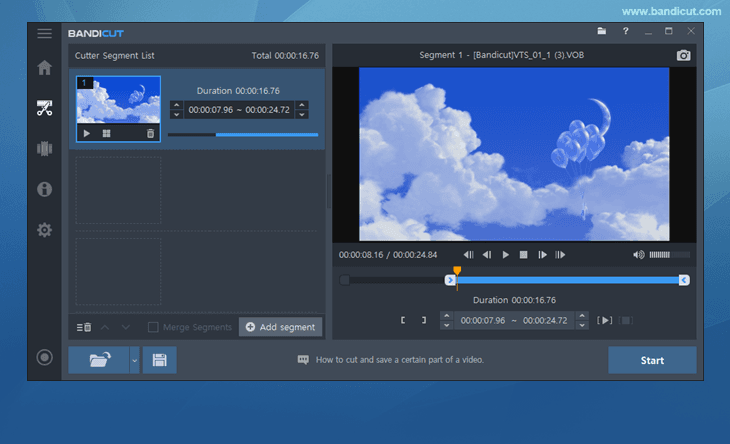 1. How to convert DVD / VOB files to MP4
The VOB file format is most commonly used for DVD. However, many media players and mobile devices don't support the VOB file format. In this case, you have to convert VOB to MP4 through a video converting program. If you use the "Encoding mode" of Bandicut, you can convert VOB to MP4, AVI, MKV or WebM file formats. To convert/extract a VOB file and save it as an MP4 video, import the VOB file and select the 'MP4' extension from [Encoding mode] of Bandicut.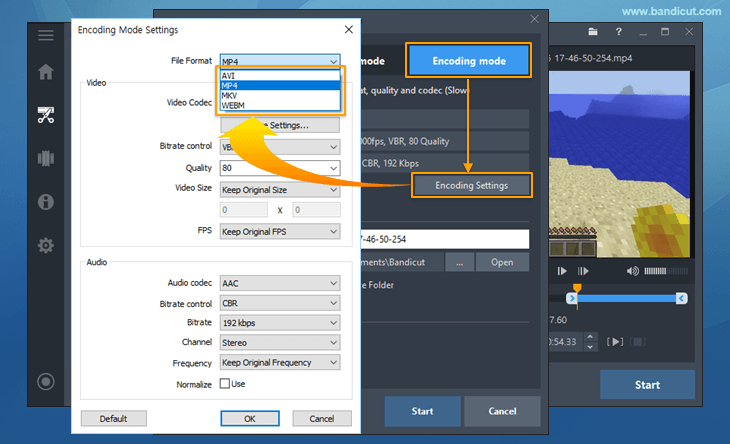 2. How to save DVD to MP4 if you have a problem with Bandicut
Some DVDs cannot be converted to MP4 through Bandicut. In this case, record the DVD video with Bandicam while playing the DVD on your computer. You will then be able to save the DVD video as an MP4 file.