A video loop, or repeat video, is a continuously repeating video with unlimited replays. It will repeat the duplicate footage without going to the next part. If you are a video creator, loop videos can be an incredible marketing strategy to upscale your video-making skills and catch viewers' attention. A video loop is a new way to present concepts in a repetitive form to profoundly impact the watcher's mind. In this article, you will learn how to make repeat or loop videos more appealing to your audience.
What are loop videos used for? Why are they getting popular?
Loop videos are an effective way to promote your business.
Convey a majestic landscape by repeating the video of a natural scene, such as an endless river.
You can loop a video or short clips to make it longer for social media platforms, such as YouTube or Instagram.
Keep scrolling to learn how to satisfy your creative urge and make your own video loop!
How to make a video loop with Bandicut
How do you repeat a video over and over? Bandicut can help you with this process. As the best video editing app, Bandicut offers a wide variety of video editing options to users that can set your imaginative aspect free and make amazing loop videos for your audience. It provides a high-speed mode to finish the process quickly.
Features of Bandicut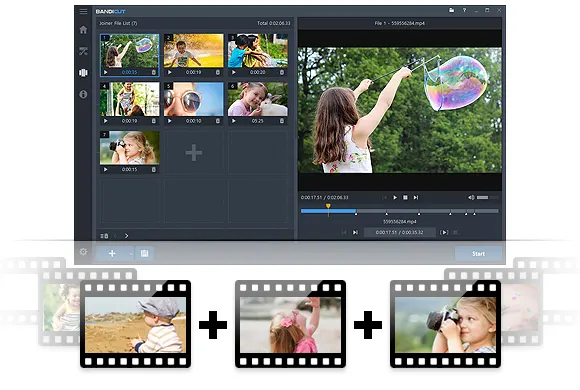 The software supports various formats, such as .avi, .mp4, .mov, .m4v, .mkv, .mpeg
It can remove or extract audio from video
It maintains the quality in the output file with high-speed
It supports hardware accelerated H.264 encoders, which can reduce the system load and enable quick video editing
A loop video continuously repeats a part of a video to strengthen the message you want to convey. Bandicut helps users create loop videos following a few simple steps:
Step 1: Install Bandicut on your PC and start.
Step 2: Import the video you want to loop and continue importing the same file.
You can add videos by clicking the + icon, or drag and drop files to Bandicut. Once you finalize the loop times, click on the Start button.
Step 3: Press the "Start" button again to combine the videos in High-Speed mode.
After finishing the process, the loop video is ready, and you can share it on any digital platform such as YouTube or Vimeo to grab your audience's attention.
Additional Tips: When making the video loop, make sure to check the video length and, based on video size, adjust the amount of times that the video will repeat.
If you want to know more about the method, check our FAQ below:
Frequently Asked Questions
Q1. What is the purpose of a loop video?
Loop videos add creativity and style, catching the viewer's attention. Commercial markets utilize this mass appeal technique through social media and other digital platforms to promote their brands uniquely.
Q2. How is a video loop different from a conventional video?
Loop videos will show you a particular sequence in repeat. Whereas conventional videos take full time to convey the message, loop videos take minimum time to represent the whole subject line.
Conclusion
Loop videos are a blessing to digital marketing platforms; they project the product into viewers' minds and influence their buying decision. Repeat videos are all set to mark its trend with the new generation. Use Bandicut and make a video loop to make the watching and listening experience more appealing. Video loops make business and entertainment both influential.