Have you ever heard of or used the TikTok app? If you're a TikToker, you will want to create fun videos for users to watch, and even find yourself wanting to download other TikTokers' videos to watch them at a later time. This blog will introduce you to the features of the TikTok app, how to make TikTok videos on a PC, and a simple way to download TikTok videos.
TikTok is an audio- and video-based application where users can upload short videos of pretty much anything they wish to show. Initially, TikTok users uploaded videos of themselves lip-syncing popular music titles in fun, creative ways. In recent years, however, companies and influencers began using the platform to promote themselves and their services. TikTok is available on Androids and iPhones, as well as on computers.
TikTok for Desktop: Basics you must know
TikTok has improvised its features, one of which makes it available on PC, a huge win for users. Now you can use TikTok on your desktop before running it on your Android or iOS device. This isn't challenging; there are only a few things you must remember before you use TikTok on your desktop:
Visit tiktok.com to use TikTok on a PC.
Once you log in to your account, you can upload videos from your computer.
Unlike the mobile app, TikTok's website does not support built-in editing tools such as filters and effects.
TikTok's download option is not available on a PC, so you will have to use a third-party program such as Bandicam to download TikTok videos to your computer.
Special Note: Videos that you upload through your PC must have a length within 10 minutes and a resolution of 720 x 1280p. Also, the video format should be MP4 or WebM, and the size should be less than 2GB. If your video does not meet these requirements, you should compress or convert the video using a video converter.
---
Bandicam: Make or Download TikTok Videos
Do you want to make your TikTok videos funnier and share them on TikTok? Do you want to download and save the TikTok videos to your computer? If so, let us introduce a software that will enhance your TikTok video-making process: Bandicam, a program that provides excellent performance in screen recording.
The Features of Bandicam
If you want to add more fun to your TikTok videos, try recording your face and voice together on video with a webcam and microphone
Bandicam's diverse screen recording mode helps you record certain areas on the entire screen or a small part around the mouse cursor
Insert images, texts, or logos to make your video more appealing to your audience
You can add animation and mouse movement effects during the screen recording
Create dynamic videos using real-time drawing for screencast
---
How to Make TikTok videos on your PC
With the various features that Bandicam offers, you can now embark on your TikTok journey on a PC. Record the PC screen or gameplay, add necessary effects, fix the video resolution, and share your final product with the world.
Step 1. Install Bandicam on your PC and start.
Step 2. Go to the Format Settings in Bandicam and set the file type to MP4.
Step 3: Select the 'Rectangle on a screen' menu and click the custom size. Set the Target size to 720 *1280.
Step 4. Now you're ready to record. Record whatever you want on the computer screen and upload to TikTok.
Additional Tip: TikTok Video Ad Specs
TikTok Ads videos have the following video standard conditions. » TikTok Video Ads Specifications
Bitrate: ≥516 kbps
File size: within 500MB
Duration: 5-60 seconds (TikTok recommends short video of 9-15 seconds)
To create TikTok video ads videos, select CBR and set the Keyframe interval to 1 in Bandicam's format settings.
Related Tips: Make your TikTok videos more special
Tip 1. Add your voice or computer sounds
If you want to record both computer sound and your voice, select "(Default Output Device)" for the Speakers and "Your microphone device" for the Microphone.
Tip 2. Add webcam overlay to video (facecam)
You can make creative content by recording the screen and face simultaneously using the webcam overlay feature.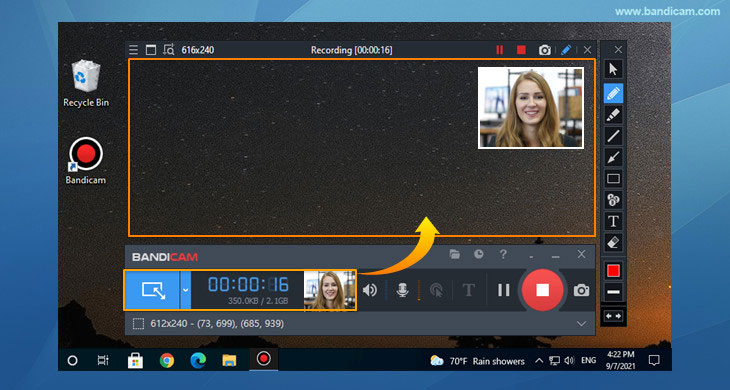 The webcam overlay option can be a great marketing tool if you want to promote your services or give a short review of a product. You can also create reaction videos using this feature.
Tip 3. Use drawing tool
Draw lines, boxes, or highlights while recording in 'Screen Recording' mode.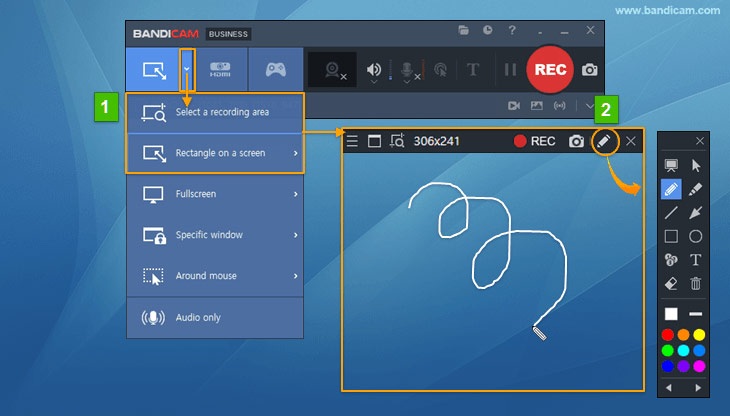 ---
How to Record PC screen for TikTok videos
Do you want to download an exciting video on TikTok and save it on your PC? Bandicam allows you to screen record a video on TikTok. Follow the simple steps below to capture and save TikTok videos.
Step 1. Install Bandicam on your PC and start.
Step 2. Select "(Default Output Device)" for the Speakers to record PC sounds.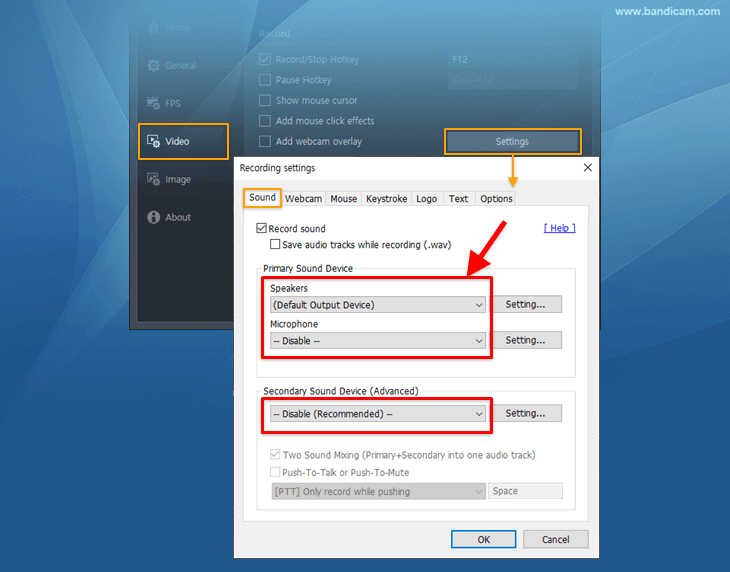 Step 3. Select a recording area or the 'Rectangle on a screen' option.
Step 4. Visit tiktok.com and click on the ●REC button to start and stop the recording.
Step 5. When you finish the recording, go to Home-> Video on Bandicam to play the captured video.
Summary
The recently added desktop feature for TikTok invigorates many aspirants and new talents on TikTok. Users, ranging from celebrities to business houses, can now use the TikTok live desktop mode, which is professionally more appealing. Screen recording TikTok can double the benefits, as you can edit the video before uploading it on TikTok. With Bandicam, you can set the resolution, check the video length, add facecam, and use a drawing tool to make your TikTok video more appealing and interesting.