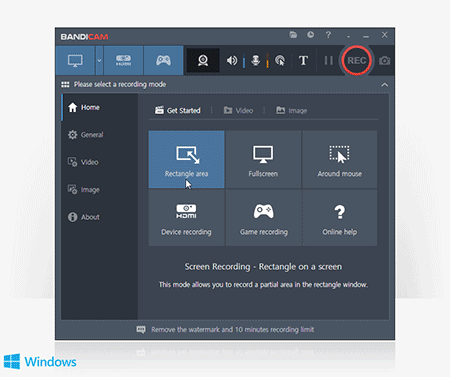 Supported Languages›

English

עִבְרִית

magyar

latviešu

Bahasa Melayu

lietuvių kalba

ภาษาไทย
A comparison between the registered and the unregistered version
* If the product is not registered, the watermark will be shown on the recorded video and the recording time will be limited to 10 minutes per recording.
* Once you purchase the program, there is a lifetime guarantee on the license as long as you follow the license policy. » Bandicam License Policy
* If you uninstall the registered Bandicam, you can transfer the license to another computer. » How to uninstall Bandicam

Comments
»

All comments
What can be recorded through Bandicam Screen Recorder?
Various 2D/3D games: Skyrim, WOW, StarCraft 1,2, Minecraft, RuneScape, Aion, MapleStory, Second Life, Age of Conan, EverQuest, etc.
Internet TV streaming videos: YouTube, BBC, CNN, Internet lectures
Streaming video playing programs: iTunes, Windows Media Player, VLC
Various Windows programs: PowerPoint, Excel, Firefox, Messenger
Desktop Screen, Skype Video chatting, Webcam, HDTV, Java/Flash games, other 3D applications.
See the recording manual
»

See more version history
The maximum file size for YouTube uploading has been changed from 4GB to 64GB.
Improved the hooking compatibility with BlueStacks.
Fixed the UI bug in the device selection window.
Other minor bugs fixed.
It is now possible to use the 'Game Recording Mode' for Windows Store apps (UWP).
The recorded video can now be uploaded to YouTube directly. (How to upload a video to YouTube.)
Added support for H.264 (AMD APP) of AMD Radeon RX series.
Improved the hooking stability of DirectX 12 games/programs.
Improved the compatibility with AverMedia HD Capture C985 capture card.
Improved the update module.
Other minor bugs fixed.
Bandicam now supports the HEVC (Intel QuickSync Video) encoder.
Added a webcam format settings function which allows the user to select the webcam size, aspect ratio (16:9, 4:3) and FPS with the webcam overlay feature.
Added a Push-To-Mute function.
- It is now possible to select the Push-To-Talk or Push-To-Mute function.
Improved the video sync between the recorded video and webcam video when a user saved webcam videos as separate files.
Improved the compatibility of webcam overlay with DirectX 9 games/programs.
Added a new preset (YouTube 1080p).
Other minor bugs fixed.